May 18, 2018
2018 Alumni Award Recipients Announced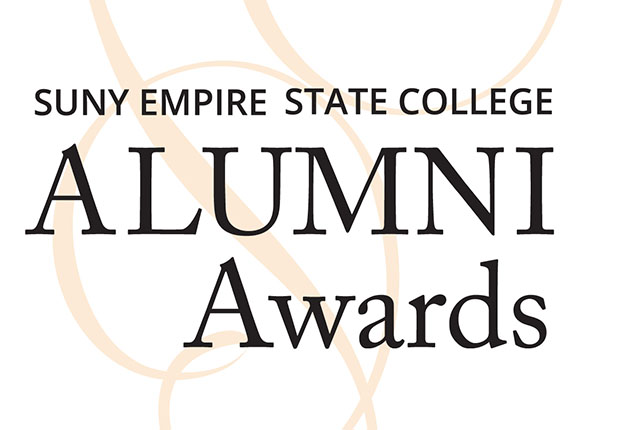 (SARATOGA SPRINGS, N.Y. - May 21, 2018) Erin Sullivan '04, '13, a union shop steward in New York City and resident of Congers, N.Y., Emad Rahim '02, '03, an educator living in Syracuse, N.Y., and John Corrou '94, a retired sales executive living in Saratoga Springs, N.Y., have been selected to receive this year's Emerging Leader Award, Community Impact Award and Distinguished Leader Award, respectively, by the SUNY Empire State College Alumni Student Federation Board of Governors.
The board of governors unanimously approved the awardees at its meeting on May 12, held at the college's location at 113 West Ave., Saratoga Springs.
All three recipients will be honored at the joint Empire State College Foundation and Federation Board of Governor's awards dinner, to be held in Saratoga Springs this fall.
About Erin Sullivan '04, '13
The Emerging Leader Award recognizes a graduate who has completed his or her degree within the last five years and since graduation has demonstrated significant leadership in his or her profession, community and/or SUNY Empire.
Sullivan, who earned both her Bachelor of Science in Labor Studies and Master of Arts in Labor Policy, is the shop steward of the International Brotherhood of Electrical Workers' Local 3 in New York City.
In 2006, she became a journeywoman electrician and, in 2007, Sullivan was selected by her sisters and brothers for the Life Saving Award, the union's highest honor, which is presented to any
member who, by direct personal involvement, saves the life of a fellow human being.
Sullivan saved the life of one her union brothers, who became unconscious after choking during lunch.
Sullivan served as Local 3's shop steward on the 432 Park Ave project, which was the largest residential building in the western hemisphere, at NYU Langone Health for three years and at 200 Park Ave, where 140 Local 3 electricians work.
In 2011 Sullivan was appointed chairwoman of Local 3's mentoring program.
To date, more than 2,200 apprentices have been paired with mentors.
In 2014, "Professor" Sullivan also began teaching the course "Principles of Trade Unionism" as an adjunct member of the college's faculty.
In 2015, she saw the need to bring labor history into the pockets of her students and developed a labor history app, which is available free on the Apple Platform.
Sullivan's students now have the ability to access and learn more about the history of the American labor movement anytime, anywhere students' phones are connected to the internet.
"Ms. Sullivan demonstrates the best of Empire State College," says Sharon Szymanski, interim associate dean of the college's Harry Van Arsdale, Jr. Center for Labor Studies. "Her commitment to education for working adults, her ongoing activities as a labor activist and her role as an instructor transforming the lives of the students show why she is so deserving of this award."
In March 2016, Sullivan was one of 50 women from across the country selected to attend the AFL-CIO Global Leadership Conference as part of the United Nations Commission on the Status of Women.
Appointed as the representative of the union's third district to IBEW Women's Committee, which encompasses the states of Delaware, New Jersey, New York and Pennsylvania, Sullivan will attend the union's international women's conference later this year.
About Emad Rahim '02, '03
Rahim earned both his Associate of Science and Bachelor of Science in Community and Human Services with SUNY Empire.
In his book, co-authored with Casey Reason, "Resilience: From Killing Fields to Boardroom: The S.A.L.T. Effect," (2016), FastPencil, Inc., Rahim recounts his journey from birth in 1978 in a Khmer Rouge concentration camp in Cambodia's killing fields, where his father was executed and his older brother died of starvation, to life as a youth on streets of Brooklyn, N.Y., where he accidentally walked into the crossfire and was shot during a city block party, stabbed during a gang fight and victimized by an abusive stepfather, and his subsequent move to Syracuse and rise to success in business, community service, as a scholar, educator and endowed college professor.
Rahim, who earned a doctorate of management from Colorado Technical University and completed his post-doctoral studies at Tulane University and Harvard University, holds the Kotouc Family Endowed Chair for the Project Management Center of Excellence at Bellevue University, based in Omaha Ne. He also directs Bellevue's Project Management Degree Programs and is an associate professor with Bellevue's College of Science & Information Technology where he works remotely from Syracuse NY.
Rahim oversees and teaches graduate level courses in project management and manages and supports the needs of faculty and students at the university and at its Project Management Center of Excellence.
He was a Fulbright Visiting Scholar at Rochester Institute of Technology in Kosovo, formerly known as the American University in Kosovo, whose degrees are accredited through its partnership with RIT in New York.
At Ztudium Inc., a technology big data business intelligence digital network for finance, markets and business, with focus on innovation and social media DNA, he is an equity partner and member of the board of directors.
He also holds an honorary appointment in social impact with Claremont Lincoln University and writes for IntelligentHQ.com, Forbes and CEO Magazine.
In addition to his memoir, he is the author of several books on management and leadership.
Rahim also is an alumnus of SUNY Onondaga Community College and was the recipient of the 2017 Outstanding Alumni Award from American Association of Community Colleges.
About John Corrou '94
The federation board of governors has awarded the 2018 Distinguished Leader Award, which recognizes transformational philanthropy, leadership and service to SUNY Empire, to Corrou.
Since completing his Bachelor of Science in Business, Management and Economics in 1994, Corrou, a retired sales representative with Franklin International, one of the largest privately held manufacturers of adhesives and sealants in the U.S., and a veteran of the Army Reserve, has been giving back to SUNY Empire.
Together with his wife, Jane Corrou, they established the Corrou Family Scholarship, which provides financial support to single parents furthering their education.
He has been an active member of the Empire State College Foundation Board of Directors since 2007 and the college's federation board of governors since 2004.
Corrou currently chairs the foundation board's program committee, is a past chair of the Empire State College Annual Fund and served as a member of the college's 2013 presidential search committee.
He has served as the president of St. Clement's Roman Catholic Church Parish Council, and is long-time supporter of the Yaddo Garden Association, both of which are located in Saratoga Springs. He also supports the Saratoga Performing Arts Center and the Albany Symphony Orchestra.
About the Alumni Awards Program
The college's board of governors established the Alumni Awards Program in 2016. Awarded annually, the purpose of the program is to recognize the college's exemplary alumni who have made a lasting impact on society, and SUNY Empire, through outstanding professional, philanthropic, or volunteer accomplishments.