August 13, 2018
Morton Bahr Distance Learning Scholarship Recipients Announced
Scholarship Established by Alumnus Morton Bahr '83, '95, Communications Workers of America President Emeritus, Expands Access for Union Members and Workers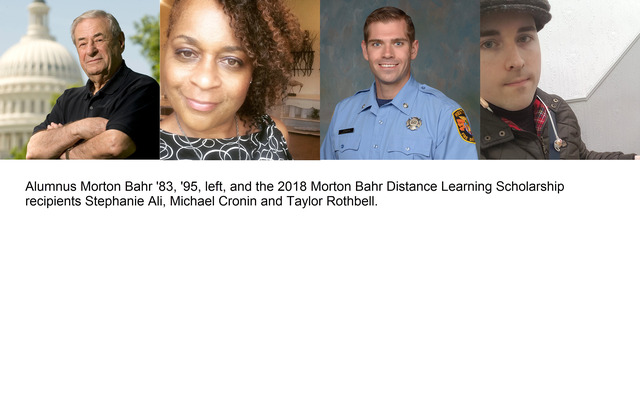 (SARATOGA SPRINGS, N.Y. – Aug. 13, 2018) Stephanie Ali, an arts educator from Sugar Land, Texas; Michael Cronin, a firefighter and EMT from Montgomery, N.Y.;, and Taylor Rothbell, a residential public area attendant from Woodside, N.Y., are the 2018 recipients of the Empire State College Foundation Morton Bahr Distance Learning Scholarship.
The Bahr Scholarship supports students studying to complete their bachelor's degree online. It was created to honor president emeritus of the Communications Workers of America and college alumnus Morton Bahr '83, '95.
"A successful and vibrant economy today requires the nation to embrace lifelong learning," said Bahr. "This requires today's adults to 'go back to school.' The Bahr Scholarship program helps make that a reality for several more workers each year. Our partnership with Empire State College is an excellent vehicle to encourage embracing lifelong learning by the broad student population."
In addition to supporting student access and affordability through its foundation, students enrolled with the college through partnerships with unions, and those who may be unaffiliated and interested in degree programs in labor, are supported through the SUNY Empire State College Harry Van Arsdale Jr. Center for Labor Studies.
"SUNY Empire has been educating union members since its founding in 1971 and we're grateful for the ongoing support of Morty Bahr and the Communication Workers of America for student scholarships," said Officer in Charge Mitchell S. Nesler. "Learning and completing a degree online, and the blend of online and face-to-face learning through our labor center, provides students with the flexibility they need to succeed. In turn, our students become alumni and, like Morty Bahr, make greater contributions to their unions and employers and better support their families and middle-class America."
About the 2018 Bahr Distance Learning Scholarship Recipients
Stephanie Ali
A dance educator with the Houston Independent School District, the Fort Bend Academy of Arts and Dance and a member of the Screen Actors Guild and AFTRA, Ali is studying to complete a Bachelor of Arts in The Arts.
"I am extremely honored to be a recipient of the Morton Bahr Distance Learning Scholarship," said Ali. "SUNY Empire State College has been instrumental in supporting my academic goals. Being the first college graduate in my immediate family, I am thankful to ESC for teaching me to dream again. Thank you, Morton Bahr, for believing in me and affording me the opportunity to achieve success. I am truly grateful for your generous support."
Her short-term career goal is to continue teaching the performing arts.
Ali plans on continuing her education and completing a master's degree.
Through one of her SUNY Empire courses, she started a blog, "Learn Dance Technique," which led her to explore the possibility of starting a business.
She said that she wants to transition into administration or management and then open her own business teaching dance, which would meet community needs and have a positive impact on society.
Encouraged to complete her education and continue her career in the performing arts by her family, Ali aspires to establish a college scholarship in music arts in honor of her late husband.
Michael Cronin
A firefighter, EMT and hazardous materials technician with the West Point Fire and Emergency Services Division of the U.S. Military Academy, Cronin is a member of the International Association of Firefighters, AFL-CIO-CIC.
He is studying to complete a Bachelor of Science in Public Affairs, with a concentration in emergency management.
"I was so excited when I read the acceptance letter while on duty, that I leaped out of my chair, spread my arms out in the air and let out a loud 'yes,'" said Cronin. "Thank you for seeing something in me and providing me the opportunity to continue on with my aspirations."
The married father of two young sons noted that the Bahr online scholarship would reduce his student debt.
When he told his wife, a public school teacher, about the good news, she was "equally ecstatic."
Cronin's academic aspirations and career goals include:
• Completing a master's in public administration or organizational theory.
• Gaining acceptance to, and subsequently completing, the Executive Fire Administration Program, Kennedy School of Government, Harvard University.
• Rising through the ranks in fire service, becoming a department chief and then an administrator or director.
Cronin said that his goals include continuing to be the best person he can for his organization, and toward the women and men he works with every day.
Taylor Rothbell
Rothbell, who works for the Four Seasons Hotels and Resorts in New York City, is a delegate with The New York Hotel and Motel Trades Council, AFL-CIO, Local 1, and UNITE HERE!, Local 6. He is studying to complete his Bachelor of Science in Labor Studies.
"I believe the labor movement is the key to creating a better world," said Rothbell. "Unions have always been the most significant vehicle through which the American working-class has been able to advance its aims and increase its power relative to the capitalist class. I am studying labor studies, and am very active within my union, because I want to see America's labor movement grow and flourish, rather than continue on its current path of decline."
A part-time student, he said wants to complete a bachelor's in order to acquire the knowledge and skills necessary for him to contribute to the labor movement in a meaningful way and, in so doing, advance his career and work in the labor movement.
Rothbell's short-term goal is to become a business agent for the Hotel Trades Council and/or UNITE HERE! He said he aspires to be a leader in the labor movement and help it transition into a greater social movement and better support America's working class.
About the Empire State College Foundation
The full list of scholarships is available on the Empire State College Foundation application portal www.esc.edu/ESCFAST.
During the college's 2017 fiscal year, the college's foundation provided $1.76 million to directly benefit students, implement collegewide initiatives and support research and assist with faculty and staff development.
Last year, more than 2,500 alumni, employees and friends partnered with the college by making a gift in support of the work of the foundation.
Need-based student scholarships comprise the most significant use of foundation funds. During 2017-18, the foundation distributed more than $784,055 to support more than 700 students living across the country.
Of the more than 800 students receiving financial support from the foundation last year, 237 of those were at risk of being unable to complete their degrees because of dire financial circumstances and were awarded nearly $200,000.
The foundation also sponsors a no-interest loan program for students, in the form of an advance of $500 per term on a student's financial aid funds for education expenses.
These funds are offered by the foundation for education expenses at no interest, with guaranteed repayment. More than $1 million is loaned to students through this program each year.
In addition to donor-established scholarships, emergency funding and foundation-subsidized loans, a fund of $25,000, which includes matching funds from SUNY, was distributed solely to students from historically underrepresented populations, which further demonstrates the college's ongoing commitment to expanding access and increasing completion diversity, equity and inclusion.
About SUNY Empire State College
SUNY Empire State College educates nearly 18,000 adult students in person, online, and through a blend of both, at more than 30 locations in New York and worldwide at eight international sites. Together with one of the SUNY Empire's more than 1,300 faculty mentors, each student designs his or her own customized pathway to a college degree that accommodates his or her schedule and awards credit for prior college-level learning. SUNY Empire awards more than 3,000 degrees annually and 94 percent of graduates stay in New York state. Today, more than 84,000 SUNY Empire alumni are entrepreneurs, veterans and active members of the military, professional athletes, teachers, medical professionals and leaders in their field, as well as in their communities. To learn more, visit www.esc.edu and follow the college on social media @SUNYEmpire.