December 3, 2019
Governor Cuomo Announces Strategic Partnership Between Northland Workforce Training Center and SUNY Empire State College
Partnership Will Ensure Long-Term Sustainability of the Model at NWTC and Will Expand Offerings and Programs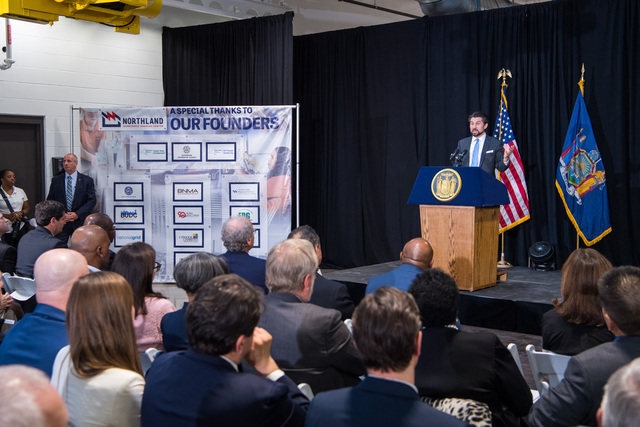 (BUFFALO, N.Y. Dec. 3, 2019) Governor Andrew M. Cuomo today announced a strategic partnership between Northland Workforce Training Center in Buffalo and SUNY Empire State College's Harry Van Arsdale Jr. School of Labor that will build on the Center's highly-successful training model and will allow SUNY Empire to collaborate with the Center's CEO and management team, grow and put the Center on a path to long-term economic sustainability.
"The workforce of Western New York has made a remarkable comeback since we began making strategic investments in the region to bring back jobs, and now we face a new challenge – making sure there are enough workers for these new jobs," Governor Cuomo said. "By partnering with SUNY Empire State College, the Northland Workforce Training Center will have the best available tools to train underrepresented populations in the region's workforce for the jobs that power a 21st century economy, ensuring Western New York's economic arrows continue to pointing in the right direction."
"I have seen firsthand how the Northland Workforce Training Center is transforming Buffalo's East Side and investing in our workforce for the jobs of today and tomorrow," said Lieutenant Governor Kathy Hochul. "Young people and workers mid-career have new pathways to success thanks to the work being done at Northland. With this forward-thinking partnership between SUNY Empire State and Northland, we will continue to advance our efforts to support job training, innovation, and further economic growth in Western New York."
SUNY Empire State College President Jim Malatras said, "SUNY Empire is a leader in flexible, personalized education for working students, as well as in awarding college credit for work and life experience, and our Harry Van Arsdale Jr. School of Labor has a nearly 50 year history of partnering with labor and communities to upskill workers. This exciting partnership with Governor Cuomo's forward-thinking Northland Workforce Training Center will create a powerful engine of workforce development that will bring far-reaching benefits to the people of Buffalo and Western New York."
The SUNY Empire-NWTC partnership will provide a long-term solution to continuing the Center's success and bolster ongoing efforts to best recruit, train, educate, place, research and train Western New York's workforce for the future, in a way that best meets the needs of local industry and is most inclusive to residents of the city's most challenged neighborhoods.
SUNY Empire's Harry Van Arsdale Jr. School of Labor will further expand its current footprint in Manhattan (with satellite offices around the state) with a new regional hub at NWTC in Buffalo. Plans call for the appointment of a new upstate director to work with the NWTC management team, board of directors, academic partners and local stakeholders over the next year to identify methods to best partner and strengthen delivery of NWTC's curriculum and services. As one example, SUNY Empire is capable of expanding labor apprenticeships in growing industries, such as green energy, through the creation of a Green Energy Workforce Training Certificate.
SUNY Empire is uniquely prepared to not only strengthen the labor pipeline, but also to further benefit residents of the community with policies and programs that will include the following:
Expand NWTC Curriculum with Additional Academic and Online Course Offerings
SUNY Empire will work with NWTC to locate staff and faculty at NWTC in order to provide additional academic and training support. Through SUNY Empire's 800-plus online courses and its Career Connector program, the Center will expand its academic offerings to include BA and master's degrees, and a next generation of local teachers will help train the incoming labor students. A primary goal will be to identify prospective teachers in the pipeline at high schools and community colleges to create the next generation of teachers most reflective of the local community and to create residency teacher partnerships with teaching assistantships.
Give Students College Credit for Previous Labor Training and Life Experience
In this program, SUNY Empire will evaluate apprenticeship programs for college credits, and combine these credits with general education credits for a fast track to an associateor bachelor's degree in addition to the student's apprenticeship program. Through this "prior learning assessment"—college credits for life experience and other on the job training programs—SUNY Empire will offer students the opportunity to earn college credit for Northland's workforce training programs and all associated apprenticeships. Its ability to evaluate college level learning in licensure, volunteer work, military, in-service course, and independent reading and study will become the model gateway to a new workforce pipeline.
Commitment to Community Development
Educational Opportunity Program (EOP): Buffalo will ultimately become a host site for SUNY Empire's new EOP Program, the first SUNY EOP that focuses on non-traditional students. The program offers 20 students the opportunity to work in a cluster to promote high success rates. Workshops and tailored supports will be provided on site.
Basic Needs Service Coordinator: SUNY Empire will strengthen NWTC's wraparound efforts by appointing a dedicated basic needs service coordinator to help students and workers address unmet needs for food, transportation, housing and overall wellness security, and to ensure that no one has tosuffer academically for economic reasons.
Educational Opportunity Center (EOC): This will continue and expand NWTC's partnerships with the University at Buffalo EOC to identify career and education pathways through SUNY Empire or other SUNY colleges.
Empire State Career Connector: This unique partnership between SUNY Empire and the New York State Department of Labor (NYSDOL) will align training and education needs to the job demand identified by the local workforce boards and the Regional Economic Development Councils. It will then connect people to jobs by providing on-site NYSDOL job counselors, working alongside SUNY Empire staff, to work with students to determine what additional education or training they needed to qualify for specific jobs.
Expand Labor Policy Research to Buffalo
A joint partnershipbetween SUNY Empire and the Rockefeller Institute of Government will expand the new Future of Labor Research Center to work with local partners in Buffalo and Western NY to track growth and identify workforce needs. This research identifies current trends and needs as well as flex programs to fill the gap. A Research Fellow will be appointed specifically in Buffalo to study the SUNY Empire-NWTC training programs as well as broader economic and labor issues emerging in WNY.
Northland Workforce Training Center President & CEO Stephen Tucker said, "We could not be more excited about our new partnership with SUNY Empire State College that will ensure the long-term sustainability of the successful model deployed at NWTC. Northland is now well positioned to prepare Western New Yorkers for high paying advanced manufacturing and clean energy careers for many years to come.
Alfred State College President Skip Sullivan said, "We look forward to working with SUNY Empire as another SUNY partner at the Northland Workforce Training Center. This partnership will only strengthen the workforce development initiatives for Alfred State students, alumni and the greater Western New York community. We look forward to expanded growth across the region."
SUNY Erie Community College President Dr. Dan Hocoy said, "We are happy to welcome SUNY Empire State as another partner at the Northland Workforce Training Center. Providing SUNY Erie students with a path to a bachelor's degree right at Northland will further prepare our graduates to become vital members of the region's workforce, while enhancing their ability to find family sustaining employment. It's a win-win for all involved."
Empire State Development Acting Commissioner and President & CEO-designate Eric Gertler said, "The high-demand skills and training developed at Northland Workforce Training Center are critical to success in in-demand industries in Western New York. The SUNY Empire partnership ensures NWTC's sustainability as well as further growth and opportunity across the region."
Representative Brian Higgins said, "Northland is a hub for hands-on training and educational advancement that positions job seekers and those looking to expand job skills for opportunities in quality, high demand fields. This partnership grows and strengthens Northland's offerings to the benefit of workers and Western New York businesses."
Senator Tim Kennedy said, "The creation of the Northland Workforce Training Center was a monumental investment not only on Buffalo's East Side, but across New York State. Through this new partnership with SUNY Empire State College, we're ensuring that the Center will have a strong, indelible impact that will span future generations, and continue to establish new opportunities for academic readiness, high-paying employment, and career advancement."
Assembly Majority Leader Crystal Peoples-Stokes said, "Since opening its' doors last September, the Northland Workforce Training Center has been a vital resource in training and preparing Western New Yorkers for the manufacturing jobs of the future. Thanks to the Governor and his Buffalo Billion, this new partnership with the Northland Workforce Training Center will be available to even more people to get the training they need to become providers for their families and productive members of our growing Western New York economy."
Assembly Member Sean Ryan said, "The Northland Workforce Training Center is providing an invaluable service to Western New York workers. This partnership will help the Northland Workforce Training Center continue to be a source of well-trained employees with skills that are in high demand in our workforce. The NWTC has been a tremendous success since its inception, and I look forward to seeing what comes next."
City of Buffalo Mayor Byron W. Brown said, "The Northland Workforce Training Center is one of the East Side's best assets. This partnership will make the center viable for years to come and provide for expanded offerings for students, many who come from the surrounding neighborhood. I thank Governor Cuomo and SUNY Empire for working together to find the necessary long-term solution, so we can train and educate Buffalo's workforce for tomorrow and keep our economy trending upward."
Erie County Executive Mark Poloncarz said, "Workforce development is a critical and ongoing need everywhere, and here in Erie County our workforce will benefit from the natural partnership between SUNY Empire State College and the NWTC. As jobs and industries change its important to have a workforce equipped with the skills to succeed and this partnership will help in making that happen here in our area by growing the student base at Northland, which will grow the student population of SUNY Erie, which provides many of the courses at Northland. Thank you to Governor Cuomo for his continued commitment to growing our region's economy."
VIDEO of the event is available on Youtube.
AUDIO of the event is available on Soundcloud.
PHOTOS of the event will be available on the Governor's Flickr page.
About the SUNY Empire State College Harry Van Arsdale School of Labor
Created nearly 50 years ago by the State of New York and run by SUNY Empire from its inception, the Van Arsdale School of Labor offers a labor-centered, liberal arts and training program for union workers across the State with convenient in person evening classes or one of more than 800 online classes for working adults. It currently enrolls 1,256 students and has labor partnerships with IBEW Local #3, International Association of Machinists and Aerospace Workers (IAMAW), International Union of Painters and Allied Trades (IUPAT), NYC District Council of Carpenters, United Association of Plumbers and Pipefitters, United Federation of Teachers Paraprofessional Program, IBEW #1430, New York State United Teachers (NYSUT), United Steelworkers of America - Institute for Career Development, WNY Area Labor Federation AFL-CIO, International Union of Police Associations (IUPA), and New York State Correctional Officers and Police Benevolent Association (NYSCOPBA).
About Northland Workforce Training Center
NWTC was developed by Empire State Development (ESD), working in partnership with the University at Buffalo Regional Institute (UBRI), Western New York manufacturing and energy companies, and local community leaders. NWTC—located at the former Clearing Niagara Plant which underwent a more than $100 million renovation and is now also home to Buffalo Manufacturing Works—anchors a larger, 35-acre Northland Corridor Redevelopment Area (Northland) on the City of Buffalo's Historic East Side. The building has served as a catalyst for the Northland Corridor and surrounding neighborhood.
ESD and UBRI developed a unique business plan for NWTC, tailored at churning out highly-skilled workers in advanced manufacturing and energy sectors—requiring 20,000 new workers in WNY over the next two decades—and doing so in a manner specifically targeted at the region's most underrepresented populations in the local workforce, largely residing on the East Side. While the actual training curricula is provided by SUNY Erie and Alfred State College, NWTC's staff provides a comprehensive program of wraparound services designed to address barriers to successfully completing existing college-level training programs, including but not limited to transportation, tutoring, substance abuse, debt mitigation/financial counseling, and childcare. Each student is assigned a "career coach" as a day-to-day advocate, employing a problem-solving approach to address issues and assisting in various soft-skill training. In turn, placement specialists match students with apprenticeships/internships during their training, followed by placing graduates into permanent positions with local companies. Career coaches then provide critical follow-up for up to three years with the graduates and their employers to ensure success. ESD contracted with Economic Development Group (EDG), a not-for-profit consortium of Catholic Charities, the Buffalo Urban League, Goodwill Industries, and the Buffalo Niagara Manufacturing Alliance, to staff and operate NWTC.
Initially supported by Governor Cuomo's Buffalo Billion, NWTC's operating subsidy to facilitate pre-opening staffing and ramp-up activities will be fully expended by June 30, 2020. While NWTC has successfully leveraged this subsidy with private foundation contributions, the Center's "high-contact" model adds roughly $10,000-15,000 per student in annual services, above standard SUNY tuition costs. The state and NWTC have been exploring ways to make the Center sustainable.
About SUNY Empire State College
SUNY Empire State College educates students at any stage of life with a personalized learning experience delivered online, in person, or a blend of both. Since 1971, SUNY Empire has empowered students to earn an accredited degree around the demands of a busy lifestyle to advance their personal and professional goals. With world-class faculty, more than 1,300 dedicated mentors to help students tailor their degree programs, and cutting-edge distance learning technology, SUNY Empire delivers a trusted and flexible online college experience grounded in more than 30 New York state locations and seven international sites where students can learn and collaborate in person. Our nearly 50 years as a leader in awarding credit for prior learning and life experience helps students earn a degree faster and at lower cost. To learn more, visit www.esc.edu and follow @SUNYEmpire.