February 10, 2021
SUNY Empire State College and Anderson Center for Autism Announce Efforts to Develop a First-of-its-Kind Autism Supportive College
SUNY Empire and Anderson's Partnership Will Meet Growing Workforce Demands

SUNY Empire's Center for Autism Inclusivity Provides Educational Support and Conducts Research to Better Serve Individuals with Autism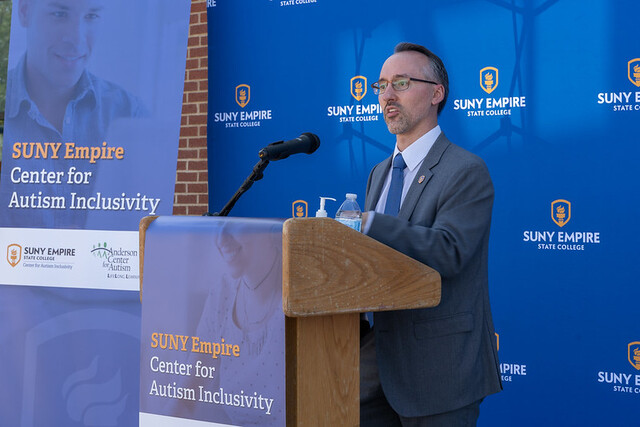 (SARATOGA SPRINGS, NEW YORK – February 10, 2020) SUNY Empire State College and Anderson Center for Autism today announced plans to develop a comprehensive training and consultation program that will lead to SUNY Empire's designation as a first-of-its-kind autism supportive college.
The initiative will include Anderson's facilitation of group training programs and organizational development for SUNY Empire faculty and staff. The goal is to ensure that SUNY Empire employees acquire the knowledge needed to implement all possible measures that can promote success for students with autism. Despite the growing number of students with autism who seek a college degree, there is a scarcity of higher education programs to fully support students within the autism community.
Last August, the two institutions celebrated the statewide launch of SUNY Empire State College's Center for Autism Inclusivity. The center provides educational support and conducts research to better serve individuals with autism in the classroom and the workplace. In partnership with Anderson, the center promotes workforce development for professionals serving individuals with autism, creates autism-inclusive learning environments, and provides the most up-to-date information and research on autism spectrum disorders.
"This effort to become autism-supportive is really the next logical step for SUNY Empire," said SUNY Empire State College Officer in Charge Nathan Gonyea. "Serving individuals with autism has long been a cornerstone of our work, especially since our online program offers those students a wonderful educational opportunity. By gaining the tools and strategies from Anderson's training program, we will build upon this work, and expect that it will open us up to highly capable, highly motivated people who deserve access to the same educational opportunities as everyone else. Since launching the Center for Autism Inclusivity, SUNY Empire has already been getting an overwhelming number of calls from people who have special needs and want a high-quality, affordable education. This is all part of what we should do to serve New York state and all of the communities within the state."
"It's become increasingly clear that all sectors must find ways to become more inclusive," said Patrick Paul, CEO and executive director at Anderson Center for Autism and graduate of SUNY Empire State College. "Colleges and universities like SUNY Empire State College can provide the kind of educational path that can help build out our workforce in this space, ensure that teachers, staff, and peer groups understand how to be as supportive as possible to students with autism, and pursue research that will help inform and inspire other individuals, communities, and organizations going forward. SUNY Empire has long had a stellar reputation of providing a top-notch education, particularly to their students with special needs. Anderson Consulting is thrilled to partner with the visionary team at SUNY Empire and we hope this initiative will prompt other colleges to follow suit."
"We are all so happy to see that the leadership of SUNY Empire State College is embracing the opportunity to provide an even more inclusive educational experience for people with autism," said Kathleen Marshall, director of program services at Anderson Center for Autism. "In addition to providing training to their employees, our team at Anderson will be consulting with them on how to make their operations more autism-friendly. We hope to help them at each point of contact with the student, to ensure that the students with autism and other disabilities can easily understand what the expectations are of them and how to navigate any forms, paperwork, and website functions more efficiently and without frustration."
"Our goal is to create resources and supports that are compassionate and driven by the autism community, with whom we are engaging in outreach to better understand how to help those who identify with autism become successful in a higher education environment," said Noor Syed, founding director of the Center for Autism Inclusivity at SUNY Empire State College. "SUNY Empire is unique in its commitment to holistically assess the college in determining proactive ways to increase the inclusivity of our administrative and pedagogical systems. Through a multi-tiered systems of support approach for faculty, staff, and students, implemented by a team which includes individuals with autism, we plan to create sustainable, inclusive practices that will become part of the SUNY Empire's cultural identity, such as streamlined onboarding processes, peer mentorship, curricular changes, and workforce readiness support."
SUNY Empire and Anderson Center for Autism are also developing a Master of Science in Applied Behavior Analysis that will prepare graduates to become New York state licensed behavior analysts and board-certified behavior analysts. The program will prepare the workforce to address the educational, emotional, and social needs of those with autism. For more information on the Center for Autism Inclusivity, please click here.
About Anderson Center for Autism
Anderson Center for Autism is a nonprofit organization based in Staatsburg that provides educational, vocational, and residential services to people with Autism Spectrum Disorder. Autism presents with communication, social, and sensory processing challenges and now impacts 1 in 54 people, according to the Centers for Disease Control.
Our mission at Anderson Center for Autism is to optimize the quality of life for people with autism. For more information, call 845-889-9208 or visit www.AndersonCenterForAutism.org.
About SUNY Empire State College
SUNY Empire State College educates 16,000 students per year in person, online, and through a blend of both, at locations in every region of New York and at eight international sites worldwide. Together with one of SUNY Empire's 800 faculty mentors, each student designs their own individualized pathway to a college degree that accommodates their schedule and awards credit for prior college-level learning. SUNY Empire awards more than 3,000 degrees annually and 94 percent of graduates stay in New York state. Today, more than 91,000 SUNY Empire alumni are entrepreneurs, veterans, and active members of the military, professional athletes, teachers, medical professionals, and leaders in their field, as well as in their communities. To learn more, visit www.esc.edu and follow the college on social media @SUNYEmpire.