April 8, 2021
SUNY Empire Opens the Richard L. Brodsky Scholarship for Public Service
SUNY Empire State College Students Committed to Careers in Public Service are Encouraged to Apply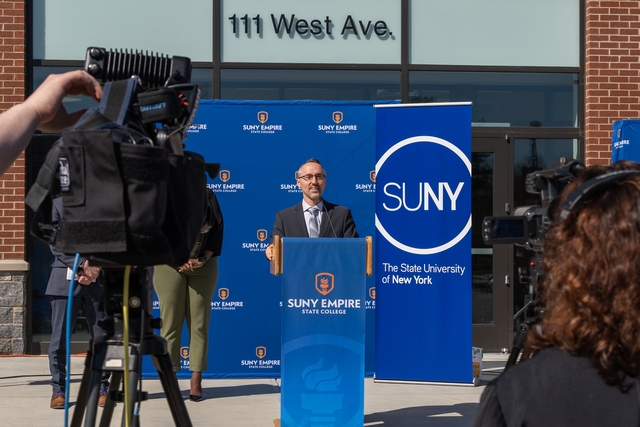 (SARATOGA SPRINGS, NY – April 8, 2021) State University of New York Chancellor Jim Malatras announced today the opening of the Richard L. Brodsky Scholarship for Public Service through SUNY Empire State College.
The scholarship honors the late assemblyman and his nearly three decades of serving the lower Hudson Valley community. Former Assemblyman Brodsky was a staunch champion of public service, and SUNY Empire State College students committed to a career in public service are encouraged to apply for the $1,200 scholarship by June 30, 2021. Applicants must also be able to demonstrate their leadership abilities and hold a GPA of 3.0 or above.
Former Assemblyman Brodsky was a well-known figure advocating for all New Yorkers during his tenure in the New York State Legislature from 1983 until his retirement in 2010. Following former Assemblyman Brodsky's passing in 2020, SUNY Empire State College established the Richard L. Brodsky Scholarship for Public Service. The recipient of the $1,200 per year scholarship award, which will be distributed at the start of the Fall 2021 semester, may use the funding for tuition, books, or other educational expenses. To make a gift to the scholarship, visit: www.esc.edu/Brodsky.
"Today's announcement underscores the legacy that Assemblyman Brodsky left behind as a fearless advocate, a reformer, and a tenacious public servant—known as 'Albany's Conscience'—who fought for all New Yorkers in his almost 30 years of service to the State," Chancellor Malatras said. "Throughout his lifetime, Richard opened up doors and provided opportunities to dedicated students wanting to work in government—I was one of them. My start in public service began as a legislative director in Assemblyman Brodsky's office, and through this position, I learned about the value of community advocacy, public, and giving a voice to our State's most vulnerable populations. Through this scholarship, we are both honoring Assemblyman Brodsky's memory and supporting the next generation of public servants who will undoubtedly do the same."
"Much like the late assemblyman fought for the residents of New York, SUNY Empire seeks to empower them through the strength of an advanced degree," said Nathan Gonyea, SUNY Empire State College officer in charge. "As we celebrate our 50th anniversary, the Richard L. Brodsky Scholarship for Public Service builds upon our founding principle of removing barriers to educational opportunities no matter where students are in their academic journey."
"We are grateful that Chancellor Malatras chose to honor the memory of Richard Brodsky by establishing this scholarship at SUNY Empire and, in doing so, helping our students who are interested in public service careers reach their goals," said Empire State College Foundation Interim Executive Director Sue Epstein. "We know our scholarship recipients feel pride and confidence from this recognition of their potential."
"One of the best things you can do for yourself as a college student is getting involved in student government and taking advantage of all of the opportunities available to you," said SUNY Empire State College student Ann Sconiers. "Through my experiences as interim treasurer of the Student Government Association, I have learned so much how crucial representation is in an academic setting. I encourage my fellow classmates who plan to enter into public service to apply for the Richard L. Brodsky Scholarship."
About SUNY Empire State College
SUNY Empire State College educates 17,000 students per year in person, online, and through a blend of both, at locations in every region of New York and at eight international sites worldwide. Together with one of SUNY Empire's 700 faculty mentors, each student designs their own individualized pathway to a college degree that accommodates their schedule and awards credit for prior college-level learning. SUNY Empire awards approximately 3,000 degrees annually and 94 percent of graduates stay in New York state. Today, more than 91,000 SUNY Empire alumni are entrepreneurs, veterans, and active members of the military, professional athletes, teachers, medical professionals, and leaders in their field, as well as in their communities. To learn more, visit www.esc.edu and follow the college on social media @SUNYEmpire.
About The State University of New York
The State University of New York is the largest comprehensive system of higher education in the United States, and more than 95 percent of all New Yorkers live within 30 miles of any one of SUNY's 64 colleges and universities. Across the system, SUNY has four academic health centers, five hospitals, four medical schools, two dental schools, the state's only college of optometry, and manages one US Department of Energy National Laboratory. In total, SUNY serves about 1.3 million students in credit-bearing courses and programs, continuing education, and community outreach programs. SUNY oversees nearly a quarter of academic research in New York. Research expenditures system-wide were more than $1.0 billion in fiscal year 2020, including significant contributions from students and faculty. There are more than three million SUNY alumni worldwide, and one in three New Yorkers with a college degree is a SUNY alum. To learn more about how SUNY creates opportunity, visit www.suny.edu.