May 7, 2021
SUNY Empire Helps Veterans in Need Through Statewide Donation Drive
Contactless Drives Held in Rochester, Saratoga Springs, and Selden, NY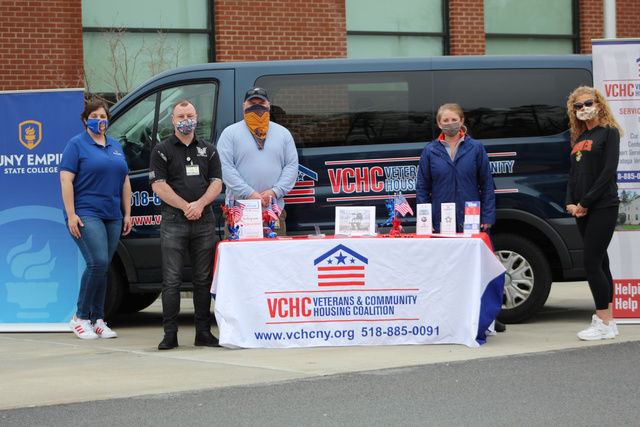 (SARATOGA SPRINGS, NY – May 7, 2021) In celebration of Military Appreciation Month, the
SUNY Empire State College
Office of Veteran and Military Education hosted a contactless donation drive to benefit organizations that support U.S. military veterans living in our communities.
The drives, held at three SUNY Empire locations in Saratoga Springs, Selden, and Rochester, New York, helped raise awareness of veteran needs and supplied critical food and personal needs for veterans in need. All together, the drives collected 212 food and personal-hygiene items for veterans throughout the state.
Michelle Viola-Straight, director of community relations at Veterans & Community Housing Coalition, headquartered in Ballston Spa, New York, said community donation events like the one at SUNY Empire State College not only collect much-needed items for veterans, but also help her organization make new connections with veterans who may need assistance.
"Even after the event is over, we hear from people who saw us in the news or read about us in the paper who need help. If I can connect with one person – provide support or service – then my day is complete," Viola-Straight said. "This is where the magic happens — in the community. If we didn't have the community behind us, we could not provide the services and supports we do."
Desiree Drindak, director of veteran and military education at SUNY Empire, said the college's office of veteran and military education (OVME) exists to support military-aligned students and alumni, as well as those in the wider veteran community.
"The OVME mission supports military-aligned students from pre-application through to graduation and beyond," Drindak said, "but another part of our mission is supporting the military-aligned in our community. We have a long history of working with veterans organizations in our communities."
Veterans Outreach Center Executive Director and U.S. Army Veteran Laura Stradley said, "Through great collaborations and partnerships like these, we are able to provide for veterans in a greater capacity, and we are so grateful. Thank you to SUNY Empire State College for helping us serve our nation's heroes."
Tina Sferrazza, director of development for United Veterans Beacon House, said "We are honored to partner with SUNY Empire. Partnerships like this one are a vital part of what we do at Beacon House. Community drives ensure we have the essentials on hand and available for our residents and community members in need."
###
About SUNY Empire State College
SUNY Empire State College educates 17,000 students per year in person, online, and through a blend of both, at locations in every region of New York and at eight international sites worldwide. Together with one of SUNY Empire's 700 faculty mentors, each student designs their own individualized pathway to a college degree that accommodates their schedule and awards credit for prior college-level learning. SUNY Empire awards approximately 3,000 degrees annually and 94 percent of graduates stay in New York state. Today, more than 91,000 SUNY Empire alumni are entrepreneurs, veterans, and active members of the military, professional athletes, teachers, medical professionals, and leaders in their field, as well as in their communities. To learn more, visit www.esc.edu and follow the college on social media @SUNYEmpire.
About Veterans & Community Housing Coalition
To provide housing and support services to all homeless military veterans and their families and to advocate on behalf of all military veterans and their families and to provide housing opportunities for low income households. Veterans & Community Housing Coalition is committed to helping homeless veterans attain and maintain permanent housing, achieve financial stability, have access to healthcare, and regain their dignity.
About United Veterans Beacon House
Beacon House provides housing in 47 locations throughout Nassau and Suffolk counties. On any given day, more than 355 men, women and children from the tri-state area benefit from programs that address homelessness, physical disabilities, post-traumatic stress disorder (PTSD), traumatic brain injury, mental health issues, and addiction. Non-veterans, too, have access to housing, drug/alcohol addiction services, and job skills/readiness-development programs.
About Veterans Outreach Center Inc.
Veterans Outreach Center provides critically needed services to Rochester-area veterans completely free of charge. We offer job training and employment services, residential services for homeless veterans, free food, clothing, and hygiene kits, and more. Our mission is to serve veterans with compassion and advocate for all who have worn our nation's uniform so they can rise and live life to the fullest.