October 5, 2022
Ed.D. Cohort Completes First Academic Cycle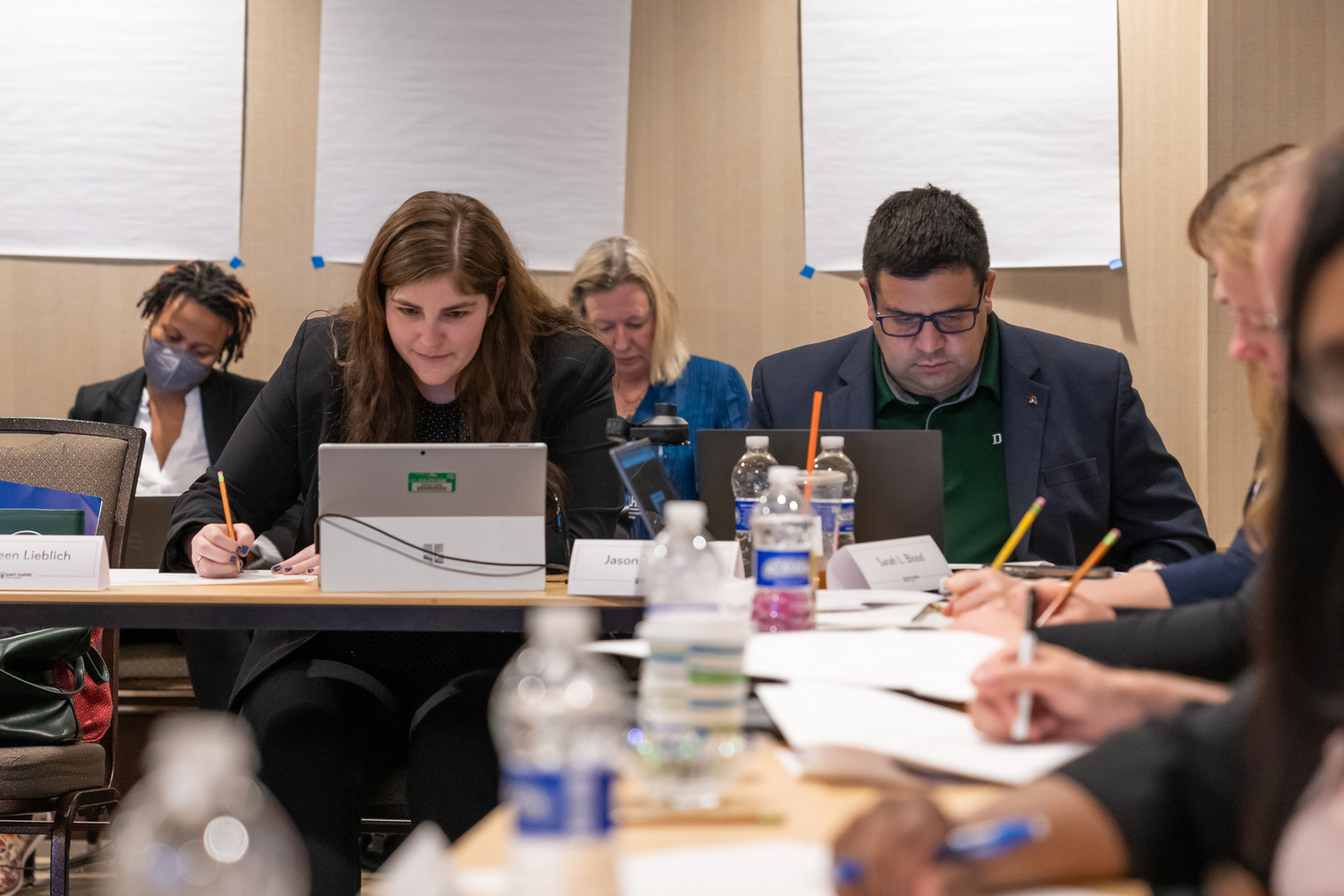 SUNY Empire's Doctor of Education (Ed.D.) in educational leadership and change completed its first academic year since the program launched in Fall 2021. The program prepares current educational leaders to advance their education and careers while learning how to lead positive change in colleges, universities, and communities. This is SUNY Empire's first doctoral program with 14 students in its initial cohort.
Applied coursework focuses on educational trends, organizational issues, and policy, as well as training in research methodology.  Students gain qualitative and quantitative data analysis skills that are useful when applying data-based decision-making as leaders in higher education. The 54-credit program can be completed almost entirely online in four years during the fall, spring, and summer semesters, with one annual in-person residency.
The first residency takes place in September, just before the start of first-year fall courses, and the next three residencies take place in June. With the exception of the Fall 2021 residency being held virtually due to the COVID-19 pandemic, all residencies are held onsite in Saratoga Springs, New York.
The Ed.D. summer residency was held on June 2 to 4 at the Saratoga Springs Embassy Suites. This intensive residency included faculty-led seminars, guest speakers, collaborative student presentations, and individual time with faculty to discuss program and dissertation processes. Professors Meg Benke and Ali Ait Si Mhamed led this year's summer residency program.
To learn more about this year's upcoming summer residency, watch this video.
SUNY Empire Doctorate Candidate Kathleen Lieblich said,
"This program caters to us as working professionals and students because it gives us the opportunity to further our educational development and careers, but also really takes in account the flexibility needed for our day-to-day lives. We can really grow in our leadership and hopefully be the change-makers in higher education as we continue in our professional journey."
SUNY Empire Doctorate Candidate Jason Fishner said,
"This program is fulfilling a niche within the SUNY system in terms of being the first online doctorate program for those in higher education and offering a remote option for working adults who might not live close to a campus or commit the time to doing in-person classes. We're all looking to further advance in our careers to contribute to the field of higher education and student development."
SUNY Empire Doctorate Candidate Brian Murphy said,
"With this residency, it's very valuable to interact and find personal connections to help each other through this process. My purpose for pursuing this doctorate degree is to open doors at higher levels and gravitate towards administration in a dean or provost position."
SUNY Empire Doctorate Candidate Kristin Bennett said,
"The in-person residency is important because we started this cohort completely virtually due to the COVID-19 pandemic, so this is a really great opportunity to meet in person and put faces to the names we've seen on screens for the past year. No one here has the same experience, so I get to learn a lot from my classmates and my professional network has expanded tremendously."
Meg Benke, professor in higher education and leadership change program, and former provost, said,
"The in-person opportunities in the Ed.D. Program help to form a community that promotes success in the program. There are many skills that participants in the program can gain by earning a degree, such as using data to make informed decisions in higher education that will make a lasting impact on student success. This program in educational leadership and change in higher education is uniquely designed for the person who is already active in the higher education field and wants to advance in their current position or to advance into future positions of leadership.
Ali Ait Si Mhamed,  program coordinator of  Ed.D. in educational leadership, said,
"I'm very happy that we could meet for the first time in person because it helps the students to build those connections. We know each other in the virtual world, but meeting in person is more personable, and everyone enjoys that, including me. This program is asynchronous, and that's very attractive to a lot of professionals who are adult learners who need that kind of flexibility."