July 1, 2022
SUNY Empire honors 73-year-old graduate from the class of 2022
Harry Williams of New York City is this year's oldest SUNY Empire graduate to receive a bachelor's degree.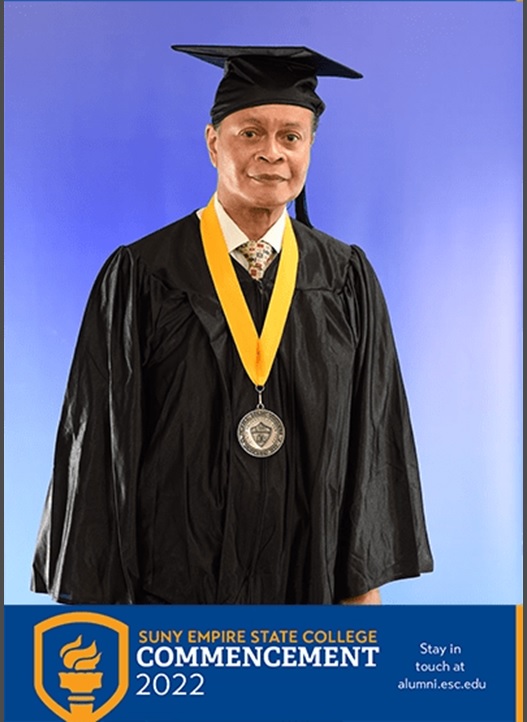 (SARATOGA SPRINGS, NY – June 29, 2022)
SUNY Empire State College's oldest graduate from the class of 2022 walked across the stage at this year's commencement in Manhattan. 73-year-old Harry Williams, a New York City resident, received his bachelor's degree in computer studies.
Williams's journey with SUNY Empire began in 2010. Then 61, he had spent a lifetime working in information systems — as a programmer, an analyst, a project manager, a teacher, an adjunct professor, and a consultant.
In 1968, he started at Suffolk Community College and eventually accumulated 48 credits. Through the years, he took courses at the New York Institute of Technology, Marymount Manhattan College, and Medgar Evers in Brooklyn but never earned a degree. By the time he decided to enroll at SUNY Empire, he was able to transfer 96 credits. In 2017, Williams earned his associate degree in computer studies.
"I love the college. I can't rave enough about the professors," Williams says. "It's great for people who are working, and what I like is that everyone was so supportive."
Williams has worked as a peer tech coach in Academic Support at SUNY Empire to help students who were struggling with Word, Excel, or their computers. He was one of the first peer tech coaches at the Manhattan location and helped the college develop the position.
In December 2019, Williams retired from his position as a computer instructor with the NYC Department for the Aging's Senior Employment Service Unit (SESU), to spend more time with his wife and continue his education. He plans to learn more about computers from SUNY Empire mentor Gohar Marikyan, a professor of computer and mathematics, and continue attending classical music concerts and art exhibits.
"Before I leave this earth, I want to learn as much as I can," Williams says. "I want to get into other areas of computer technology, including learning more languages, and artificial intelligence."