January 30, 2023
Some DMV workers now eligible for SUNY Empire credits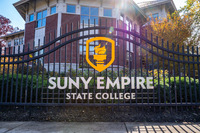 (SARATOGA SPRINGS, NY - January 30, 2023) The New York State Department of Motor Vehicles (DMV) on Monday announced a new partnership with SUNY Empire State to provide college credit to eligible employees. The credits can be used as general learning in any undergraduate program at the college.
To be eligible, a new or current employee must have completed all three components of DMV's new employee training program (NETP)—License, Registration, and Enforcement—in addition to a customer service component. Current employees must have completed the training since 2013 to be eligible. Those who have done so can receive six college credits from SUNY Empire, which represents a savings of $2,015.20 in tuition fees.
The DMV Statewide Training team will provide proof of completion of the three NETP courses to SUNY Empire for interested employees. The department has assigned staff members to serve as advisors to answer questions and help employees explore this opportunity.
"We are always looking for new and innovative ways to help our employees gain new skills through training and to advance their careers, so we are very excited to roll out this new partnership with SUNY Empire," said DMV Executive Deputy Commissioner Christian Jackstadt. "The flexibility that SUNY Empire provides will allow all our employees throughout the state to take advantage of this opportunity. This partnership is one of many initiatives we have introduced as part of a strategic effort to attract and retain top talent and make careers at the DMV even more rewarding."
"SUNY Empire State is thrilled to partner with the New York State Department of Motor Vehicles in service to the agency's employees," said SUNY Empire State President Lisa Vollendorf, Ph.D. "Our commitment is and has always been to drive educational attainment in New York state and beyond, driving social mobility and reaching students who can benefit from our flexible and innovative academic experiences."
To learn more about career opportunities at the DMV, benefits, and how to apply, visit their website.