November 21, 2022
SUNY Empire Alum Honors African American Veterans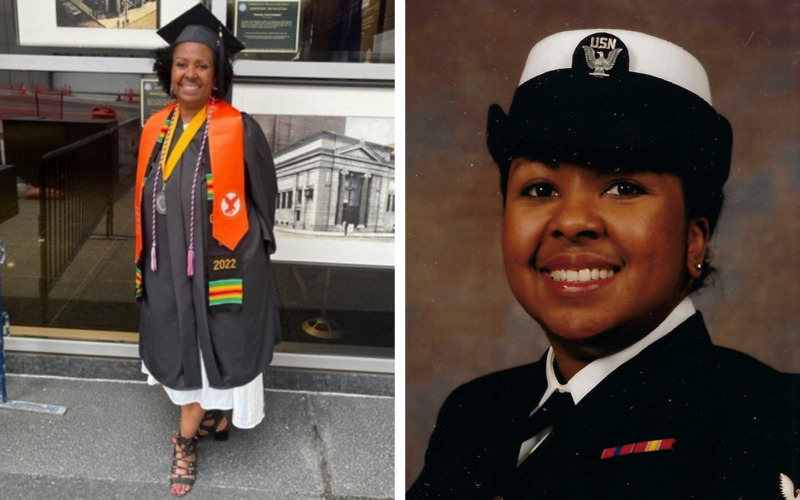 African American veterans are finally getting the recognition they deserve, thanks to a SUNY Empire alumna who is currently part of a project team responsible for the development and erection of a monument in their honor.
U.S. Navy Veteran, Robin Hodges '22, serves on the board of directors who helped to establish the African American Veterans Monument located at the Buffalo and Erie County Naval & Military Park in Buffalo, NY. The monument was dedicated and unveiled in late September and is now open and free to the public.
The initiative began six years ago as an effort to recognize the significant military achievements made by African Americans. As opposed to a memorial, a monument honors those who have served or are currently serving, whether living or deceased in all six branches of the military during war and peace times. As vice chairman of the African American Veterans Monument board of directors, Hodges worked with many historians, sociologists, authors, researchers, designers, and veterans to bring this monument to life.
"This recognition was long overdue," Hodges says. "African American veterans have served since the Revolutionary War and fought on two fronts for this country. Veterans, like my dad who fought and served in World War II, never received the gratitude and honor they deserved."
The monument features 12 black pillars, or candles, representing the 12 military campaigns that African Americans have fought in since the Revolutionary War, our country's first war. The 10-foot by 3-foot pillars are placed in chronological sequence corresponding to the dates and location that each war occurred. The distance between each pillar represents peace time after each war. The tops of each pillar will illuminate, representing candles that families put in their windows as a beacon until a soldier returned home. There are six corresponding signs that tells a story about an African American veteran that served in one of the designated wars. There is also a QR code located on each sign that can be scanned to access videos of stories about African Americans during that conflict.
Visitors can purchase a commemorative concrete brick inscribed with an African American veteran's name, branch of service, rank or years of service, that will be placed on the ground surface of the monument.
Robin recently appeared on MSNBC's "Politics Nation with Rev. Al Sharpton" to discuss her involvement with the monument's dedication as well as past and present discrimination in the military. Though she has seen improvements, she says there is still work to be done.
"African American veterans, especially World War II and Vietnam vets, were treated very poorly," Hodges says. "When other veterans were welcomed back with open arms, many African Americans came home to segregation, discrimination, and racism. My father was not afforded the same opportunities and VA benefits as his white veteran counterparts."
Robin hopes all visitors will fully experience the monument and embrace the opportunity to honor the sacrifice and resilience of African Americans during war and peace time. The board of directors is currently seeking to establish the African American Veterans Monument as a national monument via Congressional approval.
Her Brave Journey
Hodges joined the Navy in 1988, at the age of 27. She followed in her father's footsteps and served her country for close to 20 years. Many of my family members have served or are currently serving in the military," she says. "Being part of the military and a veteran can open many doors and create unlimited opportunities for success."
She had two responsibilities in the Navy, one as a naval intelligence analyst and a secondary role as a senior systems administrator for a joint reserve intelligence connectivity program.
In 2006, she made the decision to work toward a four-year degree and chose SUNY Empire because it accepted previous college credit and awarded her credits for her military experience. Her educational journey took her in many directions, starting and stopping at various times due to raising her children and assisting her elderly parents.
In the summer of 2021, she told her sons, "Mom is going back to school, and I will finish this time." She was determined to complete the degree she began 15 years prior. Obstacles continued to present themselves, most notably when her father passed away unexpectedly two minutes before Christmas Eve in December of 2021. She was still determined to reach the finish line and make her father proud.
Hodges had many wonderful experiences at SUNY Empire due to the support and flexibility she was given as an adult student. Her fondest memory at the institution was her participation in the Beaver Hollow Conference Center Residencies, where she had the opportunity to meet and interact with her classmates and professors in person.
Her mentors and staff, notably Dana Brown and Colleen Reedy from the Office of Opportunity Programs, did not allow Hodges to quit and encouraged her to keep going. "Colleen has been through the trenches with me. These ladies graciously talked me through many different, and sometimes challenging, stages at SUNY Empire. I would not trade in my experience for the world. Thank God, I made it!"
Robin walked across the stage to receive her Bachelor of Science in business, management, and economics at the 2022 Spring Commencement in Rochester, NY. As a veteran, she was recognized for her academic achievements and military service, which included the SALUTE Veterans National Honor Society.
SUNY Empire serves more than 1,200 veteran and military-affiliated students every year, which is double the number served by any other SUNY institution. Over the past five years, SUNY Empire awarded 20% of the 5,500 degrees and certificates granted to military students across all of SUNY.