October 18, 2022
SUNY Empire Graduate Student Wins ACT Scholarship
Matthew Berge is one of just five students in the SUNY system to receive this scholarship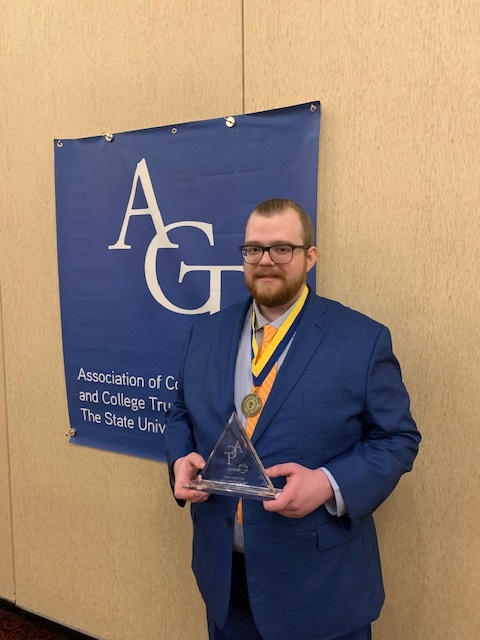 (SARATOGA SPRINGS, NY – October 1, 2022) Matthew Berge, a graduate student in SUNY Empire State's Social and Public Policy Master of Arts program, was awarded the Excellence and Student Initiative Scholarship from that was presented at the organization's annual conference. The SUNY-wide event was held on Saturday, October 15 at The Turning Stone Casino and Resort in Verona, NY.
Berge was one of just five students in the SUNY system to receive this scholarship, which recognizes outstanding academic performance and extraordinary commitment to the campus and community. This is the second time in two years that a SUNY Empire student has received this prestigious scholarship.
In addition, he is a PRODiG, a program that supports historically underrepresented groups with an interest in becoming faculty in higher education. He also serves as vice president of the SUNY Empire chapter of Active Minds, a national nonprofit dedicated to young adult mental health advocacy and suicide prevention. A portion of the scholarship will be donated to Active Minds.
Berge graduated from SUNY Empire in spring 2021 with a bachelor's degree in government, health, and safety. He grew up on Long Island, where he still lives and is the father of an 8-year-old son.
Of his achievement, Berge said, "While I was an undergraduate student at SUNY Empire, I was not as engaged in the community as I wished to be. However, once I was accepted into the School of Graduate Studies, I made it a point to get involved as much as possible. SUNY Empire offers a unique learning experience, and I believe you must go through it to understand it fully. I made it my mission to use my experience as a successful student to help enrich the SUNY Empire community for current and future students alike."
SUNY Empire State President Lisa Vollendorf said, "I am proud to see Matthew Berge getting systemwide recognition for his work and dedication to his studies and to our college community. His leadership and engagement inspire his peers, faculty, and staff. His efforts demonstrate a personal ethos centered on improving the world."
Roxana Toma, Ph.D., an associate professor in the Master of Arts Social and Public Policy program said, "Matt is an exceptional young man who has dedicated his life to advocacy for groups that face discrimination, substantial barriers to gainful employment, and difficulties advocating for their political and economic interests. He has a profound intellect, huge potential, an unmatched work ethic, and motivation to succeed. He makes us very proud, and I am thrilled for the opportunity to showcase the quality of our graduate students to the larger SUNY community."