March 23, 2022
SUNY Empire Participates in SUNY's Mascot Madness for a Second Year
2022 Mascot Madness Voting is Now Open!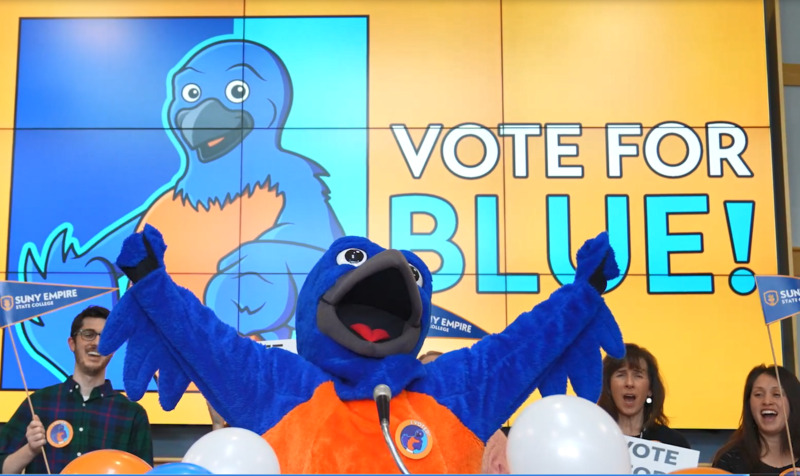 Mascot Madness is back! Annually, the 64-campus SUNY system hosts a tournament-style mascot battle to determine SUNY's favorite college mascot.
After making it to the Final Four in her first-ever Mascot Madness competition last year, Blue is back and ready to compete.
In Round 1, Game 2, Blue is up against SUNY Alfred's "Big Blue."
Head to the Mascot Madness voting page and click on Blue - SUNY Empire . You'll need to confirm your vote with a valid email address. You can cast additional votes on Twitter, so be sure to follow @SUNY and vote there each day, too!
Votes are limited to one per email address per 24-hour period. After you vote, you'll get an email from CrowdSignal asking you to confirm your vote. Your vote will not count until you confirm it in your email each day.
Voting for Round 1 is underway now until Friday, March 25 at 4 p.m.
Students, faculty, staff, family, friends and all supporters of SUNY Empire are encouraged to vote for Blue! Vote today...and tomorrow, and every day this week! Let's take Blue all the way to the top through the following schedule:
Round 2 – March 28 to 30
Round 3 – April 1 to 5
Semifinals – April 7 to 11
Finals – April 12 to 14
We'll send updates as the tournament continues, and be sure to follow us on Instagram and Facebook!