January 30, 2023
SUNY Empire Receives $121,000 Grant to Provide Student Emergency Funding
Grant will provide emergency financial support for students in Monroe, Genesee, Livingston, Ontario, Orleans, and Wayne Counties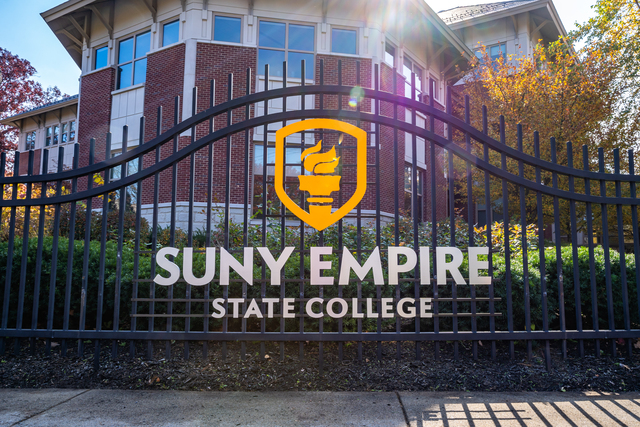 (ROCHESTER, NY — January 30, 2023) SUNY Empire State announced the college is a recipient of a grant from the ESL Federal Credit Union in the amount of $121,000.
The grant will provide emergency financial support for students in Monroe, Genesee, Livingston, Ontario, Orleans, and Wayne Counties. In addition to direct student support, the grant will underwrite implementation of new software that offers a seamless process for SUNY Empire students to apply for emergency funding and enhance the college's ability to collect data and report outcomes.
SUNY Empire Coordinator of Health and Wellness, Joshua Boardman, will be the program lead for the grant. Boardman currently administers student emergency funding from the Empire State College Foundation and the Ichigo Foundation, and supported the successful distribution of COVID-19 Educational Emergency Funds raised, in part, by the Office for Advancement at the height of the pandemic.
Data from emergency fund applications submitted during the Fall 2022 term reveals the difficult circumstances students face as they work toward earning their degree. The application asked questions about the number of times applicants have 1) not had enough food in their home, 2) been at risk of losing their housing, 3) been homeless, or 4) not had enough money to cover all of their bills in full. Ninety-seven percent of the 398 students who submitted an application responded affirmatively to at least one of the four questions.
More than 700 SUNY Empire students live in the six-county service area. Based on enrollment and financial need data, the grant will be used to provide emergency financial support to approximately 200 students during the 2023-2024 academic year.
Boardman will also participate in the Grantee Learning Collaborative, a group of colleges and organizations distributing emergency funding provided by ESL, to learn how flexible funding for emergencies can keep recipients afloat in the short term and support their long-term financial health.
ESL is the largest locally led financial services institution in the Greater Rochester area, and with assets of more than $9.1 billion ESL is one of the largest credit unions in New York State. Since the creation of its Community Impact initiative in 2018, ESL has reinvested more than $100 million in grants throughout the community.
For more information about SUNY Empire, visit www.esc.edu.