June 8, 2022
SUNY Empire Signs Partnership Agreement with Laundry Workers Center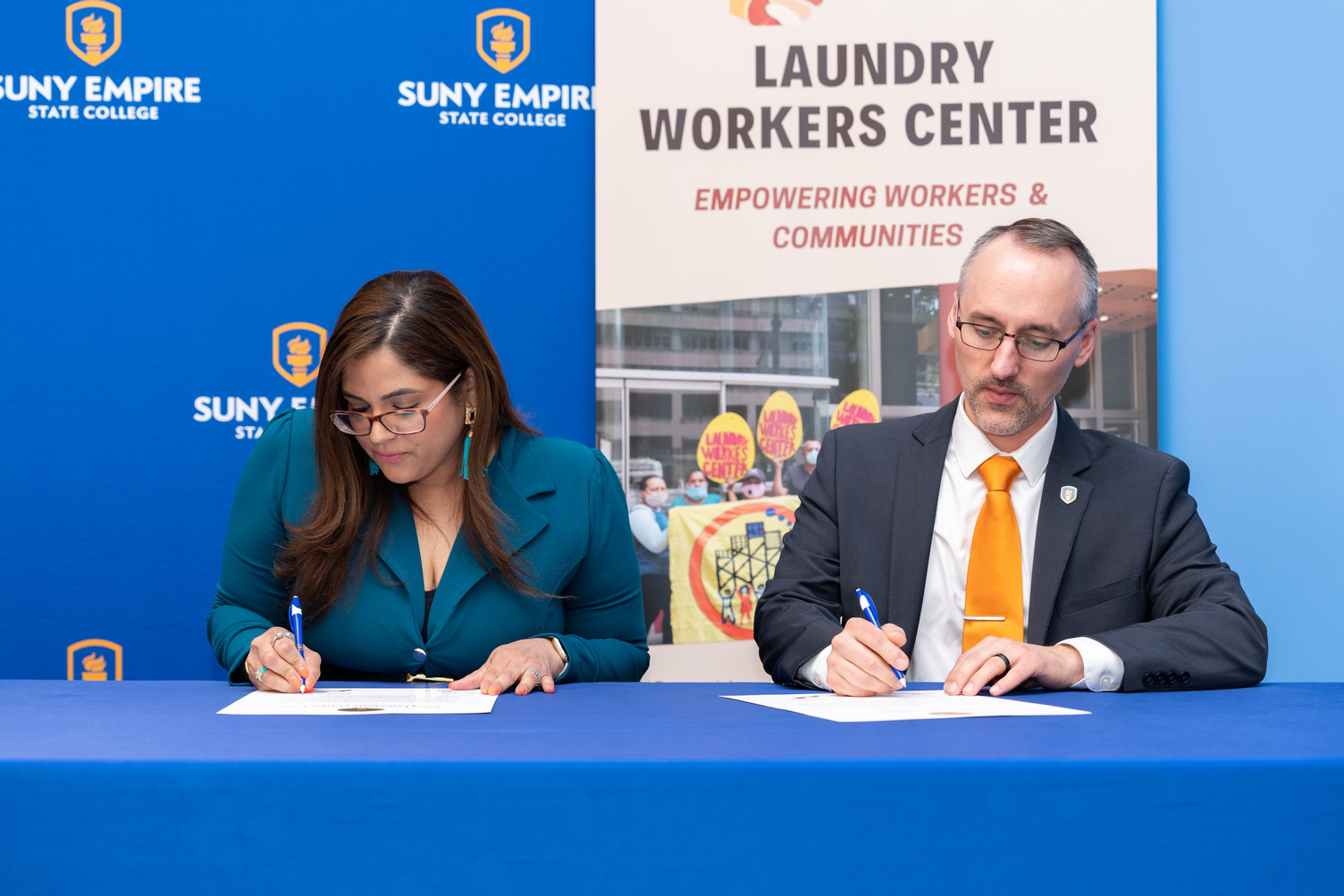 (NEW YORK, NY– May 27, 2022) SUNY Empire State College held a formal signing ceremony to celebrate a partnership agreement with Laundry Workers Center, a not-for-profit organization that works to improve the living and working conditions of low-wage, immigrant workers in the laundry, warehouse, and food service industries of New York City and New Jersey. The educational agreement will offer Laundry Workers Center employees, retirees, and their family members a direct pathway to earning a degree at SUNY Empire.
The event was held at SUNY Empire's Manhattan location at 4 Park Ave.
Laundry Workers Center Co-Executive Director Rosanna Rodriguez and SUNY Empire Officer in Charge Nathan Gonyea formally affirmed the agreement in writing.
SUNY Empire Officer in Charge Nathan Gonyea, Ph.D. said, "The Laundry Workers Centers' work is rooted in organizing workers and building their leadership skills and political power through a variety of worker-led tools and tactics. Through this partnership, all of the Laundry Worker Center members and retirees, and their immediate family members will have the opportunity to take advantage of our educational opportunities. When you're serving working adults, you need to go where they are. This is one of those partnerships that really speaks to why SUNY Empire exists."
Laundry Workers Center Co-Executive Director Rosanna Rodriguez said, "This new partnership is a great collaboration because it's taking the Laundry Workers Center to another level. SUNY Empire will open many opportunities for our community and members to begin their careers or advance their careers. We know that part of workers' power is education, and that's why we are making this amazing partnership with SUNY Empire State College."
SUNY Empire Harry Van Arsdale Jr. School of Labor Studies Dean Maria Figueroa said, "Establishing this new partnership with Laundry Workers Centers is building upon the mission of SUNY Empire State College, which is precisely to offer opportunities for advancement for all working people across all communities. We value partnerships like this so much."