May 11, 2023
Empire State University Honors Class of 2023 in Rochester Ceremony
This is the first graduating class under the university's new designation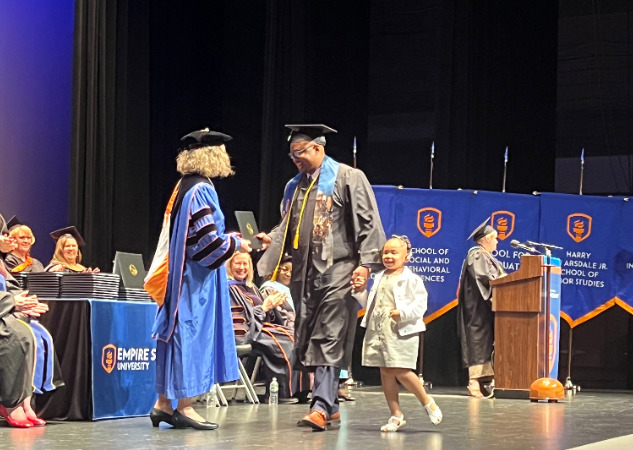 (ROCHESTER, NY — May 11, 2023) Empire State University celebrated the class of 2023 on Wednesday, May 10 at the Kodak Center on 200 West Ridge Road in Rochester, NY.
This is the first graduating class under the university's new designation as Empire State University, formally SUNY Empire State College. SUNY Empire President Lisa Vollendorf and SUNY Board of Trustee and Former Lieutenant Governor of New York Robert Duffy were in attendance.
Members of the SUNY Empire class of 2023 collectively live in 58 different New York state counties, in 24 U.S. states and territories, 17 countries around the world, and ranged from ages 19 to 79.
The ceremony featured student speaker, Quran Bell '21, '23 of Rochester, NY, who received a Master of Arts degree in social and public policy. Bell was also a 2021-22 PRODiG Scholar and a 2022 SUNY Empire Dean's Medal recipient.
SUNY Empire President Lisa Vollendorf said, "I am so proud to celebrate Empire State University's 2023 graduating class! We are champions of equity and inclusion, and we continually seek new ways to deliver on our commitment to access and excellence. Our students stand apart from the crowd and know that educational attainment can be achieved at any age and at any stage of life."
SUNY Empire Faculty Speaker and Assistant Professor of School of Human Services Rebecca Eliseo-Arras said, "Reflect on what it took to get here today. Reflect on those late nights, staying up to do your coursework after working a long day, picking your kids up from school, making dinner, and putting your kids to bed. Reflect on those days when the finish line seemed out of reach, but that little voice in your head encouraged you to keep going. Reflect on the family, friends, colleagues, and instructors who encouraged and supported you because they believed in you when you may not have believed in yourself. All of those moments led to this day."
SUNY Empire student speaker Quran Bell '21, '23 said, "Six years ago, I came to SUNY Empire as a 35-year-old single mom who was surviving but nowhere near thriving. Not having a college degree was one of my greatest secrets and one of my biggest regrets, so when I was finally ready to return to school, I put everything into this fresh start. Today I stand before you as an alum receiving a second degree – a master's degree. Every time I look at this diploma, I will be reminded that there is nothing I can't accomplish if I put my mind to it."
A recording of the ceremony can be found on our commencement website.