April 20, 2023
Empire State University Hosts SALUTE Honor Society Induction Ceremony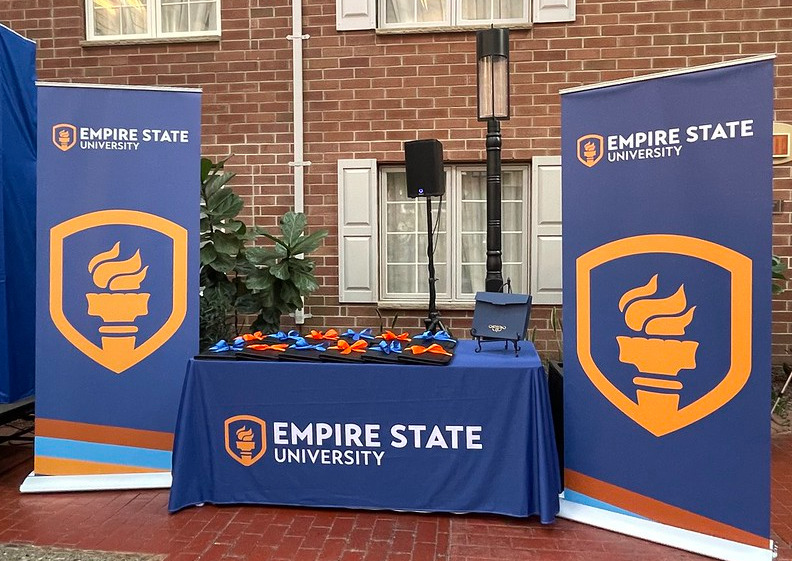 Empire State University hosted the SALUTE National Honor Society Induction Ceremony that was held on April 15 at the Desmond Hotel in Albany, NY. The induction ceremony coincided with the SUNY Empire State Spring Student Conference that took place April 13 to 15.
SALUTE National Honor Society Induction Ceremony recognizes and honors the academic achievements of our student veterans who represent the best of what veterans bring to academics. SALUTE stands for Service, Academics, Leadership, Unity, Tribute, and Excellence, which are the foundation blocks of the honor society and the pillars of success at Empire State University. New SALUTE members will be recognized at SUNY Empire's upcoming spring commencement ceremonies with a SALUTE honor stole, along with a red, white, and blue cord over their academic regalia.
Director of Veteran and Military Education Desiree Drindak, Military Outreach and Enrollment Supervisor and Keynote Speaker Brian Sherman, Veteran, Marine Corp, and Army, Military Advisor Matt Quinn, and Director of Alumni Engagement Kimberly Neher were in attendance.
SUNY Empire inducted 11 SALUTE members:
Lucas Bosch | Navy
Christina Finch | Air Force
Gerard Ford | Marine Corps
Ronald Freeman | Army
Heather Gaebel | Navy
Adam Grinvalsky | Navy
Lance Gundersen | Navy
Rodney Malloy | Air Force
Lynette Rossello | Navy
Madelyn Ruiz Army | National Guard
Roy Wilms | Army
Timothy Zeszutek | Marine Corps