November 13, 2020
2020 Alumni Awardees
SUNY Empire Spotlights four with Alumni Awards in Virtual Celebration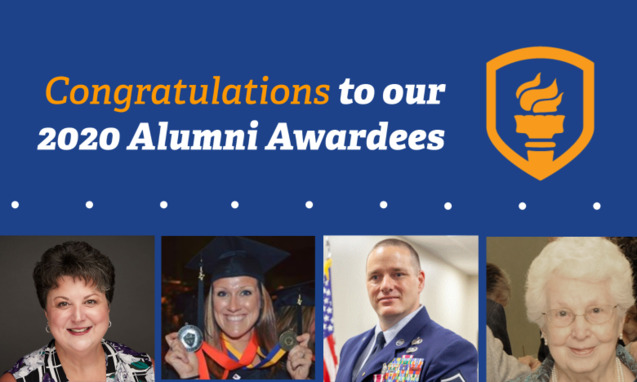 The SUNY Empire State College Alumni Student Federation board of governors recognized four of the college's exemplary alumni on Friday, November 6. Jennifer Pettis, Robyn McGee, Lawrence Wood, and Mabel Walker were honored for their lasting impact on society and the college through their outstanding professional, military, philanthropic, and volunteer accomplishments.
"Congratulations to the four outstanding 2020 Alumni Award recipients. Their exemplary leadership, service to the public, and their contributions to the SUNY Empire State College community is inspiring. I am so proud to be among these distinguished alumni," said Federation Board President Kelly DiCarmine '18, who is currently enrolled in the MBA program.
The Emerging Leader Award recognizes significant career achievements and civic involvement of a recent graduate within the last five years. This year's recipient is Jennifer Pettis '12, '17 of Halfmoon, NY. Pettis holds two degrees from SUNY Empire, an M.S. in nursing education and a B.S. in healthcare management. She is the acting director of programs for Nurses Improving Care for Health system Elders (NICHE) at New York University's Rory Meyers College of Nursing. She is also an adjunct faculty member in SUNY Empire's School of Nursing and Allied Health and provides subject-matter expertise to the Centers for Medicare and Medicaid Services and the Chase Consulting Group team, supporting their work related to nursing home resident assessment. She is member of the Alzheimer's Association of Northeastern New York board of directors, the New York State Auxiliary Board for Nursing, the Foundation of New York State Nurses board of directors, and the Alumni Student Federation board of governors here at the college. Earlier this year, Jen was recognized by the National Hartford Center of Gerontological Nursing Excellence as a Distinguished Educator in Gerontological Nursing. She also serves as the Alzheimer's Association Ambassador to Senator Chuck Schumer. "Thank you for recognizing me as a distinguished alumna and recent graduate with the Emerging Leader Alumni Award," Pettis said. "I am grateful to my fellow alumni for recognizing my leadership in the nursing profession, community service, and the SUNY Empire community with this award. I am blessed to have experienced SUNY ESC as a student in both bachelor's and master's degree programs, as an engaged alumni, and, perhaps my favorite role, as an adjunct faculty member in the School of Nursing and Allied Health."
The Community Impact Award recognizes alumni who inspire the world around them through service to the community. Robyn McGee '15, '17 received an MSW degree in integrated health from Stony Brook University in 2019. She also holds two degrees from SUNY Empire – a B.A. in community and human services and an A.A. in community and human services. McGee volunteers for numerous organizations, including a local running club where she is a runner for a special-needs "buddy." She is a first grade catechist at St. Joseph Church, a supporter of Lighthouse Mission, and a member of the Brian McGee Memorial Scholarship Golf Outing committee. Additionally, she volunteers as an appointed member to the Board of Education instructional committee on behalf of the Patchogue Medford School District, as well as participating in the River Avenue Elementary PTA and the special education PTA. At SUNY Empire, she was part of the Student Leadership Institute and continues to be a leadership institute coach. She is currently working as a school social worker.
The Veteran Service Award recognizes an alumnus/a and veteran of the U.S. Armed Forces who has made a positive impact on the local, national, international, college, and/or veteran communities. Lawrence Wood '13 has more than 29 years of service in the military, serving in the U.S. Navy and the U.S. Air Force. While on active duty, he volunteered in his community serving as the cadet explorer law enforcement advisor for the Natrona County Wyoming Sheriff and the cadet fire advisor for the Mills Fire Department. He's also been active with the United Service Organization (USO), serving as a volunteer mentor and airport volunteer in San Antonio, Texas, and with several veteran's organizations, including the American Legion Post 1619, Veterans of Foreign Wars (VFW) Post 76 (honor guard), and Post 10386 (house committee member). He received his B.S. in professional management studies from SUNY Empire and has recommended other students to the college. He is currently a deputy probation officer with Veterans Treatment Court in Kingman, Arizona. "It has been an honor to serve and work alongside veterans," Wood said. "I have received many awards in my 29-year military career. This award is an honor not only for being a veteran, but because I love helping and serving veterans. I want to thank SUNY Empire's Alumni Student Federation board of governors and my mentor for recognizing me for this award."
The Distinguished Leader Award recognizes transformational philanthropy, leadership, and service to SUNY Empire State College. Mabel Walker '79 and her husband, T. Urling (Tom) Walker have participated in many volunteer and philanthropic activities through SUNY Empire and in their community of Watertown, NY. The Walkers fund two endowed scholarships at the college, the T. Urling and Mabel Walker Scholarship in Nursing and the T. Urling and Mabel '79 Walker Scholarship established to assist students who reside in Watertown or the greater North Country. In addition, they are members of our Boyer Legacy Society. Mabel was the founder of Hospice of Jefferson County and a member of Governor Pataki's Task Force on Women's Concerns. The Walkers established the Walker Cancer Treatment Center in 1983 at Samaritan Medical Center in Watertown. The couple funds memorial scholarships at Jefferson County Community College in the name of their daughters. Tom is a former mayor of Watertown and a former member of the SUNY Empire Foundation board. When Mabel received her Distinguished Leader Award, she said, "It makes me feel good to know that I am doing something to help other people."
Nominations for next year's awards are open. Visit the alumni awards page for more information.
View the full video celebration of the 2020 Alumni Awards.
About the Alumni Awards
The true measure of a college's greatness can be found in the achievements of its alumni, and SUNY Empire State College is globally known for developing leaders. Many of the college's alumni have achieved unique distinction through success in their professions, service to the college, and contributions to their communities.
The Alumni Student Federation board of governors established the Alumni Awards Program in 2016 to recognize the college's exemplary alumni who have made a lasting impact on society and on SUNY Empire State College through outstanding professional, military, philanthropic, or volunteer accomplishments.