March 5, 2021
Alex Davidson '20
An Independent Spirit and Artistic Vision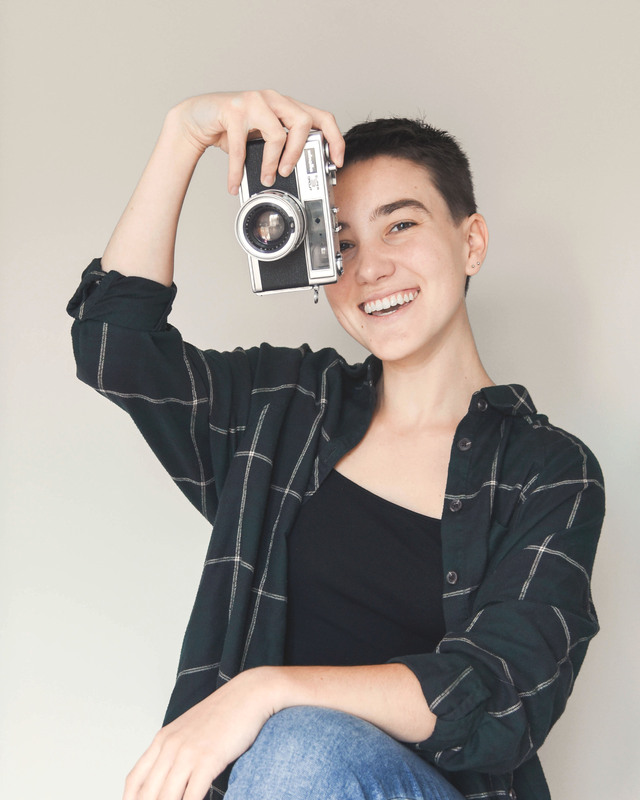 by Jason Sebastian Russo
In retrospect, SUNY Empire State College alum Alex Davidson's success makes perfect sense. Self-direction and passion are two powerful forces that serve students extremely well at SUNY Empire. Alex's drive and interest became clear at a young age. She started honing the craft of photography in her junior and senior years in high school and never looked back. Self-starters quickly find a home here, and Alex is an example of this.
Alex grew up in Henderson Harbor, NY on Lake Ontario. She took a junior photography class in high school and was immediately hooked. It was there she learned the basics – shooting on film and developing her work in a dark room. Her next step was a logical progression: digital photography and photoshop. These two classes were formative, and she decided to study the art of photography in college.
Her decision, however, wasn't set in stone. By her own admission, "I wasn't sure what exactly I wanted my career to be, and I knew having a bachelor's was a solid way to at least make sure I'd have a range of possibilities post-graduation."
This began a period of exploration, Alex's wide-ranging educational journey includes three different colleges, a testament to her hunger for learning and new experiences. While studying photography at Cazenovia College, she developed a passion for videography. She then applied and was accepted into Savannah College of Art and Design (SCAD), Georgia's premier arts college. There she changed her major to film and television, swapping out still images for moving ones.
"The decision to transfer from Cazenovia to SCAD was mainly because I became really passionate about videography, and SCAD has a really good film program," Alex said. "It was also a bonus that I knew the Savannah area, because I've grown up visiting that area every year."
During this period of exploration, Alex had the support of her family, stating that they helped her through indecision and gave her inspiration. She also noted that time management can be a major stumbling block for those pursuing higher education. She cites a support system, family, and mentors as the remedy.
"My biggest supporters while getting my degree were definitely my parents and sister. They were there to give me advice and help me through all my indecision when I was bouncing around between schools and majors," Alex recalls. "They really supported (and continue to support) me in my art, and my motivation to do what I love. I'm really grateful that I have them to fall back on. Having a good support system, whether it's your blood family or your found family, is really important."
After a year and a half in Georgia, however, Alex realized the school wasn't a great fit, and she returned to New York. Once back in the state, Alex decided on SUNY Empire as her next move.
"I chose SUNY Empire because it was local and affordable, which I needed at the time," she said. "But it's also really great because you can really design your own program. I worked with my mentor to basically design my major."
Like many others, Alex took advantage of SUNY Empire's self-directed approach, and she designed her major to include courses that not only interested her but could also benefit her post-graduation. Her major became photography and visual arts, which encompassed all of her hard-earned skills and interests and put her well along the path to a bachelor's degree.
She took advantage of SUNY Empire's community and large assortment of courses, including one that had her camping in the Adirondacks and resulted in friendships and experiences she still cherishes.
"It was one of the best experiences of my life, no exaggeration. I got to meet my classmates and professor, who I had only interacted with online up until that point, as well as people from other classes. I ended up friends with people from my area as well as people from as far away as Florida. Students and teachers were learning together, hiking together, watching the sunrise over the lake before class together, and talking around a campfire together. I learned so much from that class and that trip, and I'll never forget it," Alex says. "SUNY Empire is a great school because of the convenience, but also because of experiences like that."
2020 was a tumultuous year for many, and, true to her independent nature and spirit, Alex used it to "find her groove." She used the quarantine to hone her skills, focus on her small business, and finish her degree, graduating in June. Despite the adverse conditions, Alex's business and creative life flourished.
"I was quarantined alone in my apartment for a good chunk of time, and it really gave me the opportunity to think and get creative with the things around me," she said. "I made a series of digital art that I'm really proud of, consisting of self-portraits and a lot of Photoshop, depicting life in quarantine. My favorite photo of the series shows what it was like finishing my degree in quarantine, because the pandemic hit right before I finished school."
A quick scan of her social media reveals a bright talent. Her photography is striking, bold, and cohesive in its vision. It's the kind of work you would expect from someone who starts their own business – singular and recognizable. Her business, initially focused on family portraiture, couples, and seniors, has recently grown to include real-estate photography, blogging, and fashion. Her independent spirit shines through her creative work, her small-business success, and her fruitful partnership with SUNY Empire.
Jason Sebastian Russo is a writer, composer, musician, and digital marketer based in Brooklyn. His writing has appeared in Hobart After Dark, Clay Literary and more. He's recorded and toured with bands that include Mercury Rev, Kevin Devine, Hopewell, Pete International Airport, and Guiding Light, which releases a new album in 2021. He's also working on a novel and is currently exploring forms that combine poetry, music, and technology, as well as scoring podcasts and films. Jason is currently earning his degree in cultural studies with a concentration in communications and media. He is an intern in the college's Office of Communications and Marketing.