March 2, 2020
Doug "Brian" Sherman '17
Lifelong service. Lifelong learning.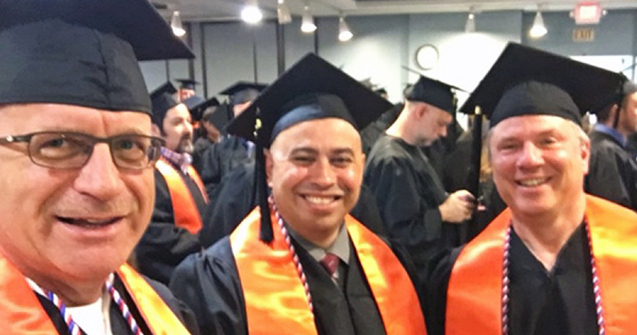 Doug "Brian" Sherman, New York Army National Guard Chief Warrant Officer 3, completed his college degree 38 years after joining the military.
In 2017, Sherman graduated from SUNY Empire State College with a bachelor's degree in business management and economics at age 56, earning a 3.96 grade point average. He was one of the first members to be inducted into the college's SALUTE Veterans National Honor Society.
A resident of Fort Johnson, New York, Sherman has served the country his entire adult life, even while working in the private sector.
Sherman joined the U.S. Marines in 1979, right after high school and served for three years. During his first month as a Marine, and at the "suggestion" of his supervisor, he took his first college courses – history and psychology – through the University of South Carolina extension on his base.
He enjoyed his courses and did well, but as an 18-year-old Marine, college was not his first priority and he did not pursue his degree. Three years later, he decided to leave the Marines.
Ten months later, Sherman enlisted in the Army, where he served through 1987.
A year of stateside training in electronic maintenance radio systems led to deployment in Germany, where he took courses from Central Texas College at its on-base extension office, as part of a program in electronics.
Brian pictured here with his son Tyler, on his way to Army Basic Training Infantry Training at Fort Benning, Georgia.
He earned additional credits, but did not complete a degree. At that time, he and his wife were raising two young sons, and Sherman's focus shifted from college to family and promotion at work. Entering the private sector and civilian life after serving in the Army, he worked for 15 years with several Fortune 500 corporations in New York state.
At the same time, Sherman continued to serve the country.
He re-joined the Marines in 1987, this time as a member of its Reserves, where he served until 2002. Later that year, motivated by his service, personal and professional goals, he moved to Florida, joined the U.S. Army Reserves as an MP and deployed to Afghanistan in 2003. He continued to serve in the Army Reserves through 2007.
Coming home to New York, he joined the New York Army National Guard and, in 2009, returned to full-time active duty. In 2012, he was again deployed to Afghanistan.
Returning to New York after a year, Sherman became the warrant officer for the New York Army National Guard's recruiting and retention battalion.
In 2014, Sherman made the decision to complete his degree and chose SUNY Empire. He found the online learning and residency courses both challenging and rewarding and credits his success to the support he received from Office of Veteran and Military Education staff and his wife Kimberly.
"With the end of my military career in sight," said Sherman. "I wanted to get a degree, so that I can teach Jr. ROTC to young people, help them to develop and have a positive impact on their minds."