February 18, 2022
Emad Rahim, '02, '03
Journey from Cambodia to College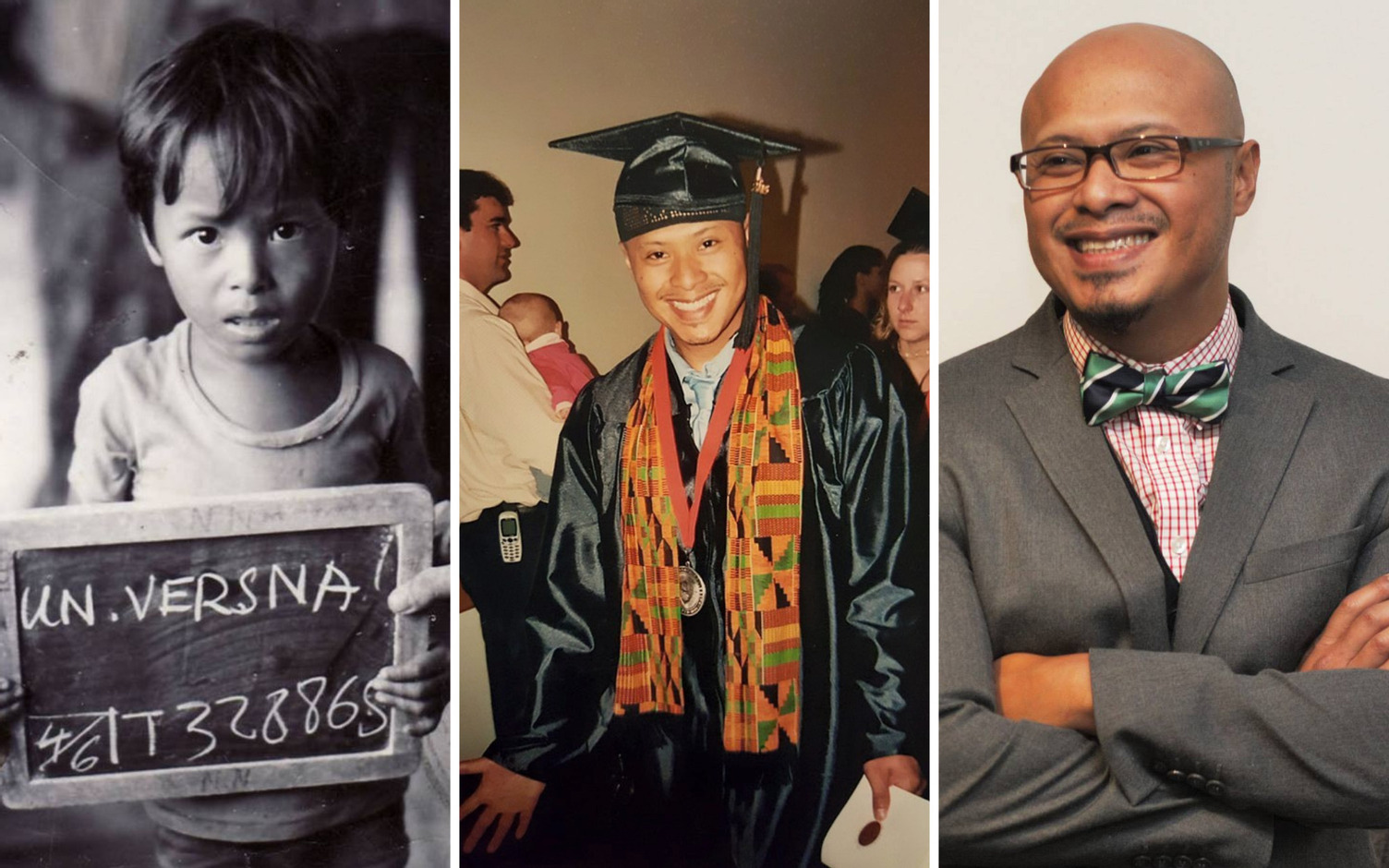 My name is Emad Rahim, and I'm a survivor of the Cambodian Killing Fields. I'm also a proud alum of SUNY Empire and a living testament to the power of education.
I spent the first two years of my life in a concentration camp. My father and older brother were killed by the brutal Khmer Rouge. With the war nearing an end, we knew we'd be killed too, if we didn't flee. Together with some others, my mother led us on a harrowing journey through the jungles of Cambodia to a refugee camp in Thailand. We lived there for two years.
Like many refugees, my family and I were sponsored by Catholic Charities to come to America. Our excitement was short lived when we landed in Brooklyn, N.Y. It was the early 1980s at the height of the crack epidemic, and the streets of Sunset Park were overrun with gang violence and drug addiction. During a block party, I walked into the crossfire of a fight and was accidentally shot. After I recovered, we relocated to Syracuse, N.Y.
There, I had to overcome an abusive stepfather, poverty, street violence, and discrimination. I struggled with a learning disability and was placed in special education and remedial classrooms. After barely graduating high school, I was accepted into the SUNY Education Opportunity Program (EOP) at SUNY Onondaga Community College (OCC).
Like many first-generation college students, I started working full time right after high school to help my mother and younger siblings. Balancing my education with work and family obligations was difficult. I often fell asleep in class, and the learning disability didn't help. Eventually, I was placed on academic probation and lost my EOP scholarship.
By age 21, I was married, and working two jobs, one as a case manager for a non-profit working with at-risk families, the other as a security guard. My educational goals felt out of reach, but a kind OCC professor (Nicholas Poulos) gave me a second chance. With his help, I was diagnosed with dyslexia and given much needed accommodations that got me back on track. Professor Poulos urged me to go on with my education and suggested SUNY Empire.
With his recommendation, I got in. Thanks to the individualized attention, the distance learning structure, and the specialized degree planning, I went from being a C student to an A student. SUNY Empire State College unleashed my passion for higher education and lifelong learning. I graduated in 2002 and 2003 with an associate and bachelor's degree in community and human services.
I went on to earn two graduate degrees (2005 and 2006) and my doctorate (2009) at Colorado Technical University (CTU). I completed post-doctoral studies at Harvard, Tulane and the University of Maryland. I went from being a dyslexic refugee who struggled with poverty and violence, to becoming a Fulbright Scholar, TEDx Speaker, United Nations Empact100 Honoree,
Congressional Award recipient and award-winning author, entrepreneur, educator, and community leader. Today, I'm a professor and the Kotouc Family Endowed Chair at Bellevue University in Bellevue, Nebraska. I'm also an equity partner, a contributing writer, and a visiting scholar. I've since published my autobiography, "Reliance: From the Killing Fields to the Boardroom," and used my story to raise money for charities and inspire students all around the world to pursue their academic and career aspirations.
My education and experience at SUNY Empire, as well as OCC and CTU, played a major role in my success. It is because of the work of these institutions that adult learners and first-generation college students like me are afforded a second chance. My transformation demonstrates the power of adult-centered education.