June 29, 2022
SUNY Empire's Oldest Graduate in Class of 2022 Has No Plans to Stop Learning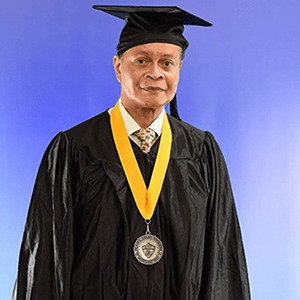 SUNY Empire's Oldest Graduate in Class of 2022 Has No Plans to Stop Learning
At a time when most people are making plans to retire, Harry J. Williams was preparing to go to college. This spring, at 73, the New York City native became the oldest member of SUNY Empire's class of 2022, graduating with a bachelor's degree in computer studies.
Williams's journey with SUNY Empire began in 2010. Then 61, he had spent a lifetime working in information systems — as a programmer, an analyst, a project manager, a teacher, an adjunct professor, and more. He had worked on a wide variety of systems from mainframes to COBOL programs to financial management systems in the banking industry. He had managed teams of developers and served as a consultant, designing whole systems, improving existing ones and tailoring them to the needs of the organization.
The one thing he was missing was a college degree. "I didn't need it, but it was something I loved doing, learning," Williams says.
Credit for Life
Back in 1968, he had started going to Suffolk Community College and eventually accumulated 48 credits. Through the years, he took courses at the New York Institute of Technology, Marymount Manhattan College, and Medgar Evers in Brooklyn but never got a degree. He also took courses at The American Institute of Banking (AIB) in Rochester.
By the time he decided to enroll at SUNY Empire, he was able to transfer 96 credits. He learned that many of his life and work experiences could be converted into college credits, thanks to prior learning assessments.
"I love the college! I can't rave enough about the professors," he says. "It's great for people who are working and what I like is that everyone was so supportive."
In 2017, Williams got his associate degree in computer studies.
A Lifetime of Learning and Teaching
For Williams, learning was a lifelong passion. He was especially fond of electronics and technology. "I had an uncle who helped wire the first communication satellite the U.S. sent into orbit around the earth," he says. "I got a taste of it just being around him."
At the age of seven, he was taking parts from old radios and televisions and building his own radios. "I had a knack for working with radios and communication and doing short wave DXing, which allowed me to listen to radio stations all over the world," he says.
In the 1950s and 60s, Harry and his brother were listening to English language stations from Albania, China, Spain, Cuba, and the Netherlands. "We would send postal mail to them to learn more about their country and their short-wave radio equipment," Harry says.
But Williams didn't just learn. Eventually, he was able to "pay it forward" and became an adjunct professor and a teacher. He taught at NYU, Malcolm-King College and Boricua College. In 2004, he was hired to be a computer instructor with the NYC Department for the Aging's Senior Employment Service Unit (SESU), which helps prepare adults aged 55+ for employment with computer classes, customer service, job search techniques, resume writing, and interviewing.
Williams brought his knack for teaching to SUNY Empire, where he worked as a peer tech coach in Academic Support to help students who were struggling with Word, Excel, or their computers. According to Brett Sherman, Ed.D., interim senior director of Academic Support, Williams was one of the first peer tech coaches at the Manhattan location and helped the college develop the position.
"In this role, he showed other students how to navigate the multiple systems they needed to be successful at SUNY Empire," Sherman says. "He also taught them basic computer skills. And if they had bought a new device, such as a notebook computer, he would help them get used to it.  Harry was tremendously helpful, kind and patient and played a crucial role in our direct service to students.   Thanks to Harry, many students were able to overcome their tech challenges. " 
Future Plans
In December 2019, Williams retired from SESU. These days, he's spending more time with his wife Mei and making plans to continue learning.
Among his hobbies is building and customizing PCs. He also plans to learn more about computers from SUNY Empire mentor Gohar Marikyan, a professor of computer and mathematics, and continue attending classical music concerts and art exhibits.
"Before I leave this earth, I want to learn as much as I can," Williams says. "I want to get into other areas of computer technology, including learning more languages, and artificial intelligence. All of this fascinates me."