July 15, 2020
Nakesha Vines '20
Preparing for a Second Career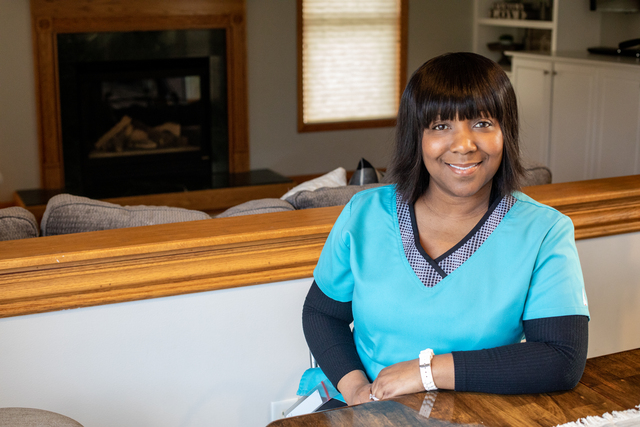 After 19 years in the corrections field – spanning five maximum- and multi-security prisons including Sing Sing Correctional Facility, Downstate Correctional Facility, and Fishkill Correctional Facility – Nakesha Vines sees the light of retirement at the end of the tunnel.
But Nakesha will only be 49 when she's eligible for retirement, and she says she can't imagine not working or making a difference at such a young age. So she started thinking about – and preparing for – a second career. She says the answer was obvious.
"I love helping and caring for people," Nakesha says. "Nursing was a career that I could see myself in. And if I don't want to work full time as a nurse, I don't have to."
Nakesha earned her associate degree in nursing at Dutchess Community College in April 2017 and passed her RN exam that summer, while working in corrections full time. In October, Nakesha was promoted to sergeant at Fishkill and was putting in per diem hours as a nurse at Dutchess County Jail.
In 2018, Nakesha enrolled in SUNY Empire's RN to BSN program and is set to graduate in summer 2020. Nakesha continues to work full time at Fishkill, where she was recently promoted to lieutenant. She says SUNY Empire's nursing program rose to the top fairly quickly when she started her college search.
"I did my research. There are a lot of online nursing programs out there, but if you live in New York state, why would you go outside your state?" Nakesha asks. "SUNY Empire's program is ideal for a working person who wants to be a nurse."
At work, Nakesha is in charge of investigations, supervising 40 officers and overseeing approximately 500 inmates. She often finds herself pulling 12-to-16-hour days, getting home at 2 or 3 in the morning. Online courses and assignments she can complete on weekends, around her schedule, are key.
"Online classes have been a great experience. You have to make them work for you, and you have to be willing to be proactive and advocate for yourself," Nakesha advises. "As long as you're trying and reaching out to your professors, they will do everything they can to help you succeed. It is what you make it."
Outside class and work, Nakesha stays busy, serving as co-chair of SUNY Empire's student affairs committee, sitting treasurer for Hudson Valley Women in Corrections, and parliamentarian for New York State Minorities in Criminal Justice.
"Stress is my norm. I do very well with stress," Nakesha says. "My best moments are when I'm making decisions under duress in emergency situations."