July 27, 2020
Oliver Riley '12, '20
Earning a Seat at the Table Where Effective Solutions Start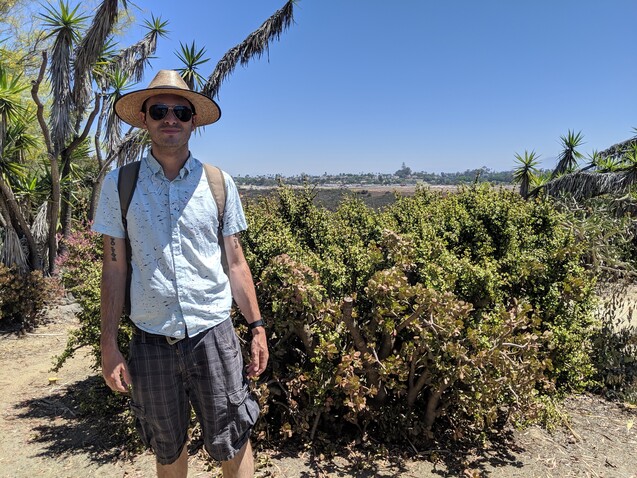 Growing up on a sheep farm in Canandaigua, New York, Oliver wasn't exactly sure where his career would take him. After high school, he pursued a bachelor's at SUNY Geneseo, but found that the fit wasn't quite right for him at the time. Due to the flexibility of online courses, he decided to finish his undergraduate work at SUNY Empire. Shortly after graduating with a Bachelor of Arts in Cultural Studies and a concentration in English, Oliver went to New York City to work on feature films and television shows but was soon left feeling burnt out. Seeing the opportunity to make a change, he moved back home to re-evaluate his true professional calling.
"I thought to myself: what do I absolutely love to do and how can I make that into a career?" said Oliver. "I loved the outdoors, I loved protecting our environment. So I decided to shift my course and focus on environmental science." Oliver earned an associate degree in natural resources management from Finger Lakes Community College to focus his writing towards science communication.
Oliver set forth on this path by working first in fisheries, then land management with the New York State Department of Conservation. After five years working as a field technician, Oliver knew he wanted to make an even bigger impact but wouldn't be able to without first earning his master's degree. When it came time for his search, he went to a familiar place: SUNY Empire.
"The best way to take care of wildlife is to take care of their environment. The best way to take care of the environment is through policy that can affect change," Oliver continued, "I felt like I could do the most good by studying the policy and have that translate to effective change for the betterment of our environment. So I enrolled in the Master of Arts in Social and Public Policy program."
The next 18 months were a bit of a roller coaster. While working full time, Oliver and his wife faced new challenges, with his wife changing careers, and as a result, packing up and moving their home from New Paltz to Saratoga Springs and eventually to East Schodack, where they ultimately settled down.
During his graduate work, professor Dr. Peggy Tally encouraged him to apply for a Legislative Fellow position with the New York State Senate. As a legislative fellow, Oliver would be assigned to a Senate member and his duties would include: in-depth policy research, meeting with stakeholders, and attending legislative sessions. The thought of getting first-hand exposure to how the legislative process works in New York was a no-brainer for Oliver, so he applied.
And then good news came, Oliver was selected as a 2020 Legislative Fellow, one of only sixteen applicants and the second-ever SUNY Empire student to be selected for the 10-month program.
"Throughout my career I always received a lot of 'not yet, you're almost there' feedback but with this fellowship, I knew I could get it. This opportunity will act as a bridge as I move from hands-on field science to policy development. I am very excited for the opportunity and grateful to all those who have supported me along the way," Oliver exclaimed. "I remember telling Dr. Tally that you work on case studies, talk about it and write about it – but to actually see how the policy is crafted – that is what I'm really looking forward to. This is my chance to learn and grow to make effect change on the next level."
Oliver hopes to be at the forefront of the discussions on the way the state can be proactive rather than reactive in its environmental policymaking. With a shift in focus, he believes that it will be possible to fund wildlife initiatives without sacrificing climate change efforts. By bringing environmentalism and policy together, real change can occur.
Looking back at how he got to where he is today, Oliver credits much of his success to his time at SUNY Empire. "I have been to many different academic institutions. I have navigated the SUNY system. I have encountered great professors and programs and less-than-great professors and programs. I am so pleased with the quality of education I received at SUNY Empire, for both my undergraduate and graduate work. I feel like I have fully transformed in my academic ability, social consciousness, and the ability to write effectively. I owe a lot to SUNY Empire State College."