August 17, 2020
Samantha Marnon '19
When Personalized Learning Meets Online Education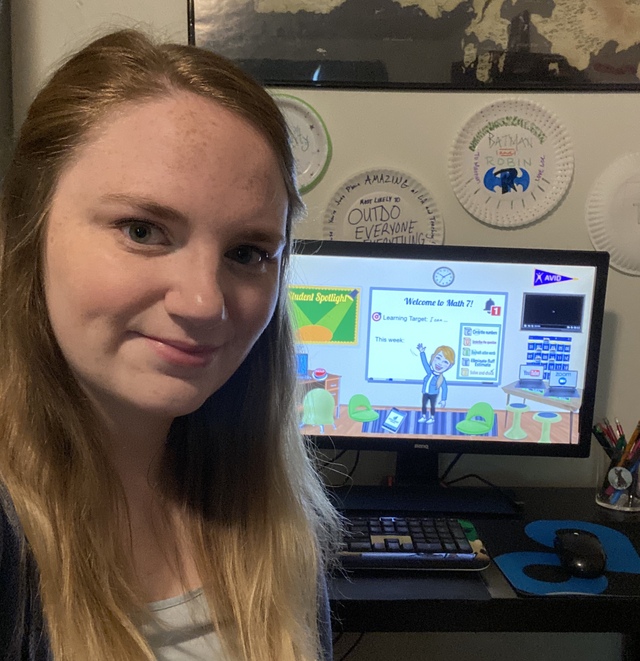 Samantha Marnon knew she loved math – that was never a question. But when she earned her undergraduate degree in mathematics and began a career as an actuary, she knew it wasn't for her.
"The office life just didn't fit," Samantha said. "I always had teaching in the back of my mind, but it was never something I thought I would pursue. But then I thought, why not?"
Embarking on a new career, Samantha enrolled at Mercy College but it wasn't a good fit. After a lot of research, she transferred her credits from Mercy and enrolled in SUNY Empire State College's Master of Arts in Teaching (MAT) program. During her first year in the program, she moved from Geneseo to Syracuse, and was able to begin working full time as a teacher while earning her degree.
Starting her teaching career as a math instructor at a middle school in the Syracuse City School District, Samantha found success taking two courses per term while working as a full-time educator.
"The well-structured and supportive model that SUNY Empire provided was a win-win for me," Samantha said. "I received tons of support from faculty, especially Dr. Isaac and Dr. Mahar. No matter how many questions I had, there was always someone there with an answer."
The online environment worked for Samantha, and the personalized learning she experienced at SUNY Empire helped her integrate online instruction in her own teaching. She says she knew online learning would have to mesh with a personalized experience in order for middle schoolers to be successful online.
Samantha began integrating an online curriculum before the COVID-19 pandemic. Samantha launched a day of recorded lessons, giving her students the option of learning the content remotely, via group study, or in a traditional classroom setting.
"SUNY Empire really prepared me for all methods of learning," Samantha said. "Every student is different, and how they learn is different. Even though I am a math teacher, I took two literary courses to understand how students learn math in an online environment."
This year, Samantha is taking on a new role within her school district – one that is critically important in the midst of the COVID-19 pandemic. As a personalized learning and AVID (Advancement Via Individual Determination) instructor, Samantha will lead faculty and community meetings focusing on AVID certification methods, helping teachers prepare their students for college and career readiness. She will also continue to teach three sections of seventh-grade math.
"Our responsibility as educators is not just to prepare every student academically, but also to prepare them for real-world success," Samantha says, "and that is what AVID methods bring to each and every classroom. We ask each student to think differently, respond imaginatively, and work collaboratively to build skills that prepare them for everyday success beyond the traditional classroom."
When Samantha talks with colleagues who aren't yet certified, she always recommends SUNY Empire's MAT program. She tells them that it's a lot of work, but that each and every assignment has real-world applications built in.
She says the "new normal" in education will call for personalized learning through a hybrid in-person and online education model, and that education will continue to evolve, allowing for greater innovation and creativity in and out of the traditional classroom.