April 6, 2020
Terri Maher
A Listening Ear in Times of Crisis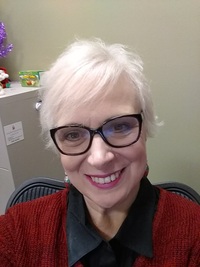 Terri Maher, a nurse, licensed master social worker, and SUNY Empire adjunct instructor, spends her weekends supporting the COVID-19 relief effort using nothing more than her phone and her compassion. But to those who rely on her, those simple tools are invaluable.
A four-year veteran of Monroe County's Disaster Mental Health (DMH) Response Team, Maher volunteers her time fielding hotline calls from anxious residents in an effort to help an overloaded Department of Health. On one weekend alone, she took 20 calls.
"I'm finding that many people reach out just for reassurance or someone to talk to," Maher says. "Once they hear a voice, many times the anxiety level seems to dissipate very quickly."
She tells the story of one man who called the hotline and began their discussion in a "state of catharsis, raging and crying." Maher says he expressed his frustration with the current situation and how it's affecting him and his family.
"There was very little that needed to be said on my end. Once he was able to vent, the call concluded with him telling me a joke, and offering free exterminating services when this is all over, just because I listened," Maher recalls. "I didn't accept his offer, but it warmed my heart to hear the change in his voice."
Maher says her experience demonstrates how human connection can transcend fears and foster reassurance in these uncertain times.
"You don't need to be a professional to provide comfort and lend an ear. I hear people say they wish there was something they could do to help," Maher says. "Never underestimate the value of just being there."