December 7, 2021
Turning Rejection into Redirection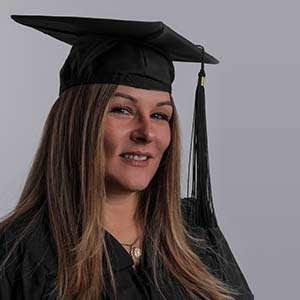 After being out of college for more than 20 years, working full time while raising a family, and maintaining a home, Paula McKenna of Rochester, New York, decided it was time to do something important for herself — earn her college degree.
So, at the age of 50, Paula enrolled at SUNY Empire State College to complete her bachelor's degree in business, management and economics.
"I had to maneuver online learning, relearn how to write papers in APA and Chicago style formats, and spend countless hours studying and completing assignments after working 8-to-10-hour days," Paula said. "It was challenging and exhausting, and sometimes I questioned myself. But we were in the middle of a pandemic, so what better way to use my time at home wisely and productively?"
Paula said she is now thankful for the number of times her resume was passed up for jobs due to her lack of education.
"I realize now that I wasn't being rejected; I was being redirected. It motivated me and challenged me. At first, I thought I was doing this to prove to others that I was capable, but the journey ended with me proving to myself that I could do it, and I did."
Paula said the SUNY Empire staff, faculty, and her mentor, Diana Centanni, inspired her to be her "very best self." She made the Dean's List every semester and will graduate with a 3.9 GPA.
"I feel proud of what I've accomplished and the example I've set for my children and other adult learners," Paula said. "Anything is possible with hard work and determination. My future has never been brighter, and I am excited for the opportunities that await me."