Adam Ortiz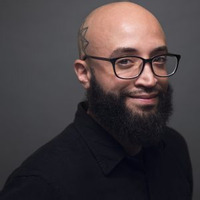 B.S., Human Development
Brooklyn, N.Y.
Adam is eager for his future. Studying Human Development he hopes to make a difference in the lives of those struggling with mental health. "It's exciting. Mental health is increasing very quickly as a priority in our culture."
His motivation to earn his degree isn't just the impact on the community. It's also about setting an example for his son.
"I always tell my son how lucky I am to be able to go back to school and finish my degree before he even starts his own college experience. Since he is old enough to understand what is happening in my life, the college experience for him will be a fresh, realistic and amazing reality for him very soon. It fills him with excitement. That makes me happy. I am changing my life. He is watching me do that. I'm helping him."
As a scholarship recipient, Adam is so appreciative of the donors who are helping him reach his goals. "I ask myself, "Would I have been able to do this on my own?" There is no way. No way at all. I could only do it with help. This scholarship helped me. And I am grateful for it."
Questions?
We are always happy to hear from alumni, students and other friends of the university.
For general inquiries, dial extension 2248.
Our fax number is (518) 580-0700.
800-847-3000