May 31, 2018
SUNY Empire to Confer an Honorary Degree on Lumina CEO Jamie Merisotis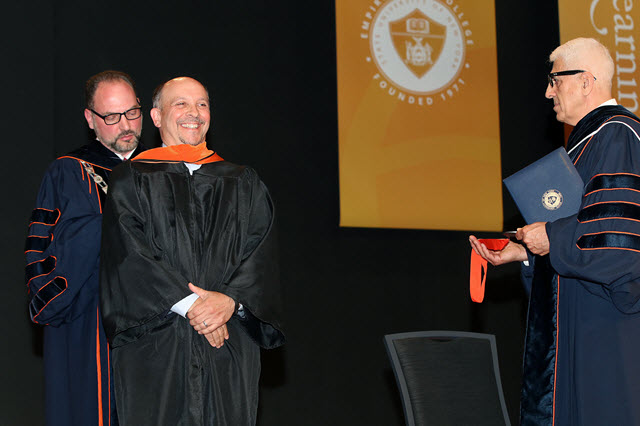 (SARATOGA SPRINGS, N.Y. – May 31, 2018) SUNY Empire State College will confer an Honorary Doctorate of Humane Letters on Jamie Merisotis, president and CEO of Lumina Foundation, at its Capital Region commencement ceremony, to be held at 1 p.m., Sunday, June 3, at the Empire State Convention Center, Albany, N.Y.
A live webstream of the event will be available shortly before 1 p.m. here.
Lumina is the nation's largest private foundation focused solely on increasing Americans' success in higher education.
Merisotis also will deliver the keynote address at the event.
"I'm honored to address this year's graduating class at SUNY Empire," said Merisotis. "And I'm truly humbled to accept an honorary degree from a university that is doing so much to support the success of students who don't fit the traditional mold – students who are critical to this nation's future success."
"Lumina Foundation has been an extraordinary partner to SUNY Empire over many years, providing programs that address the needs of traditionally underserved students, including adults," said SUNY Empire State College Officer in Charge Mitchell Nesler. "Through his leadership, Jamie Merisotis has ensured a continuing national focus on increasing college access and completion for students who are most in need. We are proud to award him an honorary degree from SUNY Empire in recognition of his support for our students and students like ours across the country."
Nesler pointed to Lumina's "Today's Student" as an example of a national initiative, which focuses on students with profiles that match those of SUNY Empire.
Today's Student educates the general public, state and federal higher education officials, as well as elected representatives, on the nature of a typical college student.
This Lumina initiative demonstrates that the profile of today's college student, an economically challenged, diverse, working adult learning on a part-time basis, is the new normal.
Through Today's Student and many other initiatives, Lumina works to reorient how key stakeholders view, support, legislate and regulate for higher education and post-secondary institutions and the students they serve.
As part of its efforts to better inform stakeholders at all levels, Lumina selected two SUNY Empire alumni, Sandra Barkevich '14 '16 and Ryan Smithson '12, to highlight as examples of Today's Student.
About Jamie Merisotis
Merisotis is a globally recognized leader in philanthropy, education and public policy.
Since 2008, he has served as president and CEO of Lumina Foundation, an independent, private foundation that is committed to making opportunities for learning beyond high school available to all.
He previously served as co-founder and president of the nonpartisan, Washington, D.C.-based Institute for Higher Education Policy and as executive director of a bipartisan national commission on college affordability appointed by the president and congressional leaders.
Merisotis is the author of the widely acclaimed book "America Needs Talent," named a Top 10 Business book of 2016 by Booklist.
He is a graduate of Bates College in Maine and the recipient of numerous awards.
Merisotis' complete bio is available online.
About SUNY Empire State College
SUNY Empire State College educates nearly 18,000 adult students face-to-face, online and through a blend of both, at more than 30 locations in New York and worldwide at eight international sites. The SUNY Empire experience is unique; together with one of the college's more than 1,300 faculty mentors, each student designs his or her own customized pathway to a college degree that accommodates his or her schedule and awards credit for prior college-level learning. SUNY Empire awards more than 3,000 degrees annually and 94 percent of graduates stay in New York state. Today, more than 81,000 SUNY Empire alumni are entrepreneurs, veterans and active members of the military, professional athletes, teachers, medical professionals and leaders in their field, as well as in their communities. To learn more, visit www.esc.edu and follow the college on social media @SUNYEmpire.