April 19, 2023
SUNY Empire Students Presented with Prestigious Awards at Spring Student Conference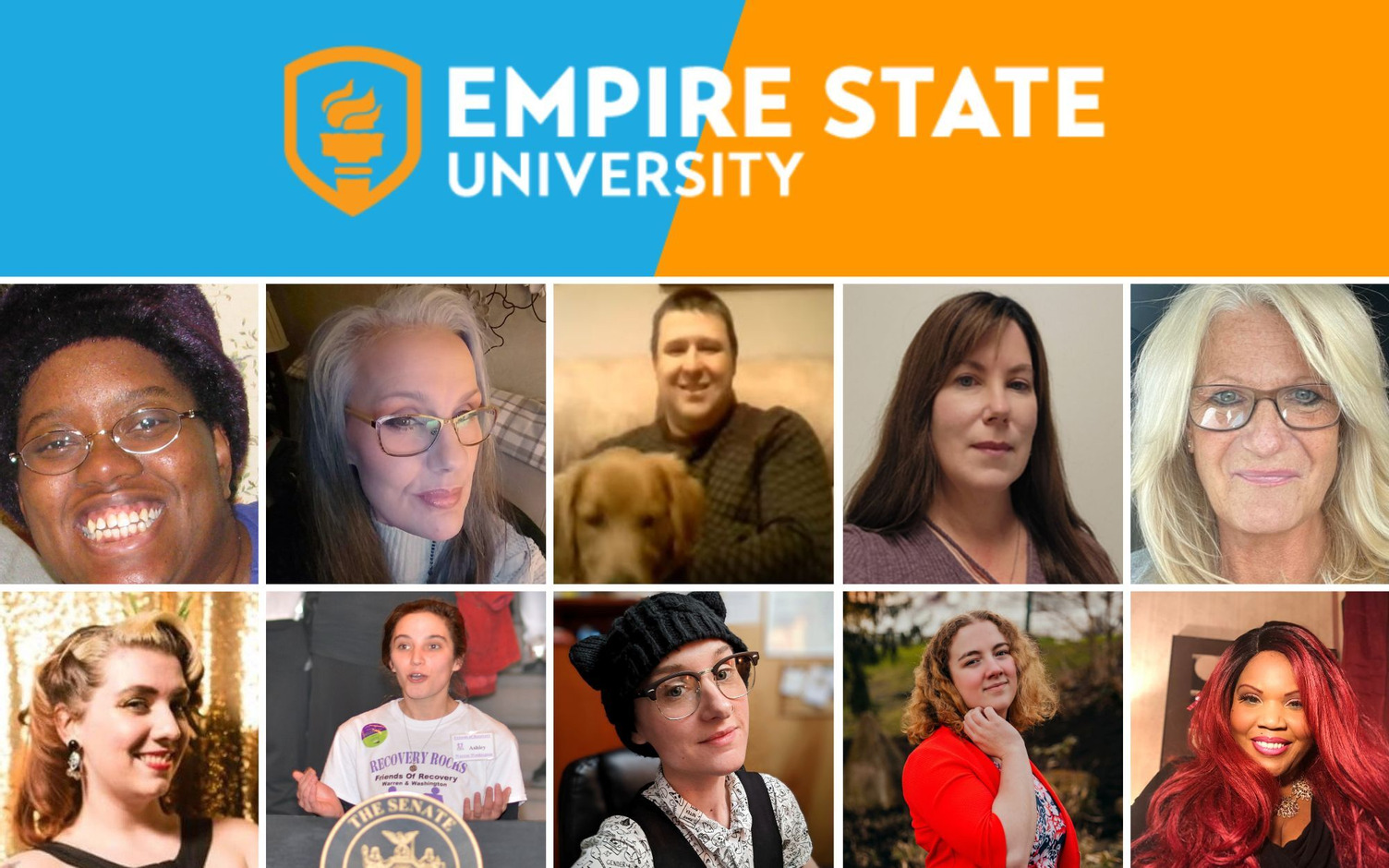 (SARATOGA SPRINGS, NEW YORK – April 19, 2023 ) Empire State University honored students with the Empire State University Student Excellence Awards, SUNY Chancellor's Awards, and Bluebird Awards at the university's Spring Student Conference this month. These awards are bestowed to students who have demonstrated a commitment to excellence through academics, leadership, the arts, and community service.
Of the acknowledgement, President Lisa Vollendorf said, "I am so proud to be the president of Empire State University as it puts me in the position to celebrate and share with the governor, senators, assembly members, and our supporters all that is amazing, unique, and impactful about SUNY Empire."
Here are the students were award both the SUNY Empire Student Excellence Awards and the Chancellor's Award:
Naomi Arndt, a candidate for a Master of Science in Business Administration, is pursuing her master's degree in honor of her sister, who passed away last year. Before Naomi's sister passed, she asked Naomi whether she had earned a doctorate, prompting Naomi to apply to graduate school at SUNY Empire as the next step toward a doctoral degree. Naomi has been a PRODiG Scholar and an MBA fellow.
Melissa Blake, a candidate for her Bachelor of Science in Business, Management and Economics, is an inspiring student, role model, and mentor to many in her program, with a deep commitment to her community. At the height of the pandemic, Melissa made more than 100 masks to donate to her local hospital and has set up tables filled with food from her farm for her community to take as needed.
Jonathan Silhavey '22, who recently received his Master of Science in Learning and Emerging Technologies, is a published author and the youngest person ever to be in the prestigious Transit Cooperative Research Program. As a leader in his work and his community, he serves as a learning ambassador promoting employee education at MTA, in addition to working with the food bank's meal-packing program and volunteering with Habitat for Humanity.
Pamela Doran, a candidate for a Master of Science in Learning and Emerging Technologies, is a PRODiG scholar with a 4.0 GPA. She won the Rockefeller Institute of Government's Future Leaders in Policy Competition with a policy proposed focused on the use of technology to enhance the experience of multilingual students in the classroom, bridging inequity divides in student service and learning. Pamela is also an aerospace education member of the Civil Air Patrol, a certified instructor for the International Society for Technology in Education, a leader in her local Lions club, and creator of Project Code Spring, a coding and STEAM program at the Desmond-Fish Public Library.
In addition, the following students received the Bluebird Awards:
Serrina Goodman, an undergraduate student in community and human services, is the senior director of a community-based organization serving as a bridge to economic opportunity for youth, individuals, and families. Recognized as a valued contributor to the workforce industry, Goodman builds community enlightenment and resource availability. She has provided services to the homeless population, out-of-school youth, gang-affiliated, and justice-involved youth and adults as well as Liberian refugees with a need to get acclimated to the American workforce. During the pandemic, she hosted and curated the "Lunch Time Lift," a 52-week resource and informative webinar. Goodman is also a SHARE Cancer program Ambassador, providing cancer awareness and resources to marginalized communities. Lastly, she successfully developed and facilitated a uniquely customized 100% virtual gun violence prevention program servicing youth ages 18 to 24 residing in high gun violence-impacted communities. This uniquely designed program provides gun violence awareness, and job readiness coupled with direct employment opportunities.
A nonbinary SUNY Empire student in the School of Social and Behavioral Science, Em Vaianella designed a social science degree with a concentration in human rights advocacy, shaped by their struggle with identity and subsequent medicalization by the psychiatric system. They were recently accepted into the PRODiG Scholar program and served on SUNY Empire's LGBTQIA+ community task group, Student Conduct Board, Student Senate, Active Minds, and Student Needs Committee. Em is passionate about promoting justice, safety, and equity in the school and beyond. They promote these values by participating in these various committees and organizations, as well as by presenting at two 2022 Reason and Respect events about mental health and intersectionality amongst LGBTQIA+ folks, and during the Spring Student Conference.
Em is also interested in promoting equity through their research, which currently focuses on interrogating the use of psychiatric institutionalization in favor or more supportive and anti-oppressive means of healing. Professionally, Em is a full-time program coordinator at a peer-run mental health agency, where they provide training and educational opportunities to new and aspiring peer specialists in New York. In this role, Em also imagined and developed the Creative Connections Campaign, aimed at destigmatizing psychiatric labels and connecting with our community in institutions through art and letters. This campaign has, for two years, delivered letters to every single person held at Pilgrim Psychiatric Center once per month, amounting to 275 letters each month. This campaign has expanded to offer community service hours to high school students as well as people impacted by incarceration on Long Island. Em also serves as the Chair of the Bi-County Empowerment Conference, an event by and for people who have experience with mental health challenges. They hope to continue expanding their social justice work and embraces their role as a queer activist.
Sarah Reiter, undergraduate student in public affairs, is a volunteer firefighter and an EMS provider with her Volunteer Fire Company. She has been volunteering in her agency for the past two years and has achieved interior firefighter status and NYS Advanced EMT status. Sarah is also currently serving as an EMS Lieutenant in her department and a fire engine lieutenant. Sarah is pursuing a degree in public affairs with a focus on emergency management. In order to help those in the communities around her, she works as a public safety dispatcher and has taken a position as a 911 call taker. Sarah also works seasonally as an emergency manager at the Erie County Fairgrounds. Sarah has dedicated her life to helping others and on average responds to 300 calls with her company a year while still being a full-time student and holding a full-time job.
She has set an example within her volunteer agency by transporting more than 65 patients to the hospital and doing everything to prevent individuals from having to pay for their pre-hospital medical care. Sarah has led trainings within her fire department's EMS squad to better the care the agency provides to her community. Sarah continues to strive to find ways to aid her community and keep it safe.
Karen Ferrari, a graduate student in the Master of Business Adminstration (MBA) program, is an advocate for mental health, sobriety, and recovery. As a SUNY Empire graduate student, she works every day on sobriety by helping others through service work and carrying the message of recovery all ways. Ferrari sponsors other women and makes herself available 24/7 when needed by alcoholics or addicts. She also creates TikTok videos to reach younger populations with addiction problems to provide advice and resources. She volunteered at Recovery All Ways, a nonprofit organization that meets people on their path to recovery, making sandwiches, clothing people, and supporting others to recovery. Ferrari also organized two sober camping events on the 4th of July and Labor Day, by shopping, prepping, and cooking for the weekend trips. For the past 28 years, she has participated in her church's parish council, supplying sample-size products, soap, shampoo, razors, and toothbrushes to the homeless. She also raises money through fundraising events to donate to children of the Dominican Republic and has been involved in Beyond The Beach Children's Foundation, a nonprofit corporation located in Canada.
Empire State University student Sam Hackborn was the recipient of the Honorary Bluebird Award, as standout member of the SUNY Empire Esports team. She joined us in 2021 and quickly established herself as a fun, upbeat, and caring individual. She's been recognized as an amazing artist who contributed many emojis to the Discord server and created advertisements that were used on Twitter and internal marketing; additionally, she created fun mascot avatars for several other players. She shows sportsmanship, tenacity, and passion in a way that we all should strive to emulate. In addition to her stellar contributions to Esports, Sam brought her creativity to the SGA, making the SGA's Judge Blue in 2022 and our new Auntie Blue logo. Her invaluable contributions to Esports and the SGA make her the perfect candidate for the 2023 Honorary Bluebird Award.
Adam Bartholomew believes strongly in the potential of the community school strategy for strengthening the bonds between children and their families. He has taken on a variety of positions in the education sector throughout New York City, including youth development counselor, restorative justice counselor, after-school program director, lead site director at a regional enrichment center, director of a community school, and vice president of community schools. Adam enjoys helping kids in whatever way he can, particularly in the classroom by providing emotional and practical support. His work is motivated by the deep desire to ensure all children have access to basic necessities.
Lauren Bradley is a passionate librarian with over ten years of experience in New York City. She has worked with scholars in special collections, served teens at the New York Public Library, and now supports students at SUNY Maritime College. She holds a bachelor's in history from Seattle University, a MLIS from Pratt Institute, and is currently enrolled in SUNY Empire's Master of Arts in Labor and Work policy program. She is a proud member of United University Professions, serving as the department representative. For the past three years, she has served on the board of directors for Urban Librarians Unite, a 100 percent volunteer, grassroots 501(3)c that supports library workers. In her spare time, she likes to sail on historic tall ships as volunteer crew at the South Street Seaport Museum.
As an individual in long term recovery, Ashley Livingston, found a purpose and passion through helping others who struggle with substance use disorders and mental health diagnoses. This passion was the driving force for her return to college, where she has demonstrated a passion for activism and advocacy. She has taken the CCAR Recovery Coach Academy and is a Certified Recovery Peer Advocate. She also helped to create a local Recovery Community Organization, Friends of Recovery. She is a legislative advocate who impacted local, state, and federal law with her work, such as the Opioid Surcharge Legislation. Ashley has since developed a toolkit on how to host a town hall, which empowers others to advocate in their communities.
Garrett Wynn is an exemplary student at SUNY Empire with a diverse background in Emergency services. He has worked for the New York State Department of Corrections and Community Supervision for 15 years and served as a sergeant at Attica Prison. Garrett has also worked for the Cheektowaga Police Department for 10 years and as a volunteer firefighter for 18 years. In addition, Garrett is an emergency medical technician and worked for the Erie County Department of Homeland Security and Emergency Services Division of EMS through New York's COVID response. He currently works for Erie County Medical Center as a senior hospital police dispatcher.
Congratulation to all these incredible award winners!