Inauguration of Lisa Vollendorf, Sixth President of SUNY Empire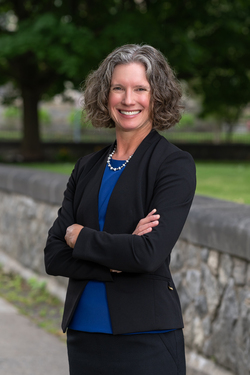 Lisa Vollendorf, Ph.D., became the sixth president of SUNY Empire on July 1, 2022. A tireless advocate for public higher education, she is deeply committed to access, equity, and inclusion.
About President Vollendorf
Prior to her appointment as president of SUNY Empire, Dr. Vollendorf served as interim provost and chief academic officer at the University of Northern Colorado. She previously worked for 16 years in the California State University system, where she was a faculty member, department chair, academic senate chair, dean, and provost at three different CSU campuses.
Ceremony and Celebration Photos
Reason and Respect with Kelly Corrigan
President Vollendorf and Kelly Corrigan
Inauguration Events
All activities will be held at the Saratoga Hilton and Saratoga City Center.
534 Broadway, Saratoga Springs, NY.
Wednesday, March 22
4-5 p.m.

Reason and Respect Speaking Engagement

Author and Podcaster Kelly Corrigan will speak to elevating roles and mindsets in education

5-5:30 p.m.

Kelly Corrigan Reception and book signing

5:30-6 p.m.

Author and Podcaster Kelly Corrigan will interview President Lisa Vollendorf
Thursday, March 23
12-2 p.m.

Private Luncheon

By invitation only

3-3:45 p.m.
Robing for guests participating in the academic procession
3:30-4 p.m.
Line up for guests participating in academic procession
4 p.m.
Inauguration Ceremony
5:30 p.m.
Reception, dinner and dancing
Contact
For more information, contact events@sunyempire.edu.