December 4, 2018
New Partnership Addresses Needs for Management Training and Professional Development
The Saratoga County Institute of Management Launches Programs in Operational Management, Self-awareness and Leadership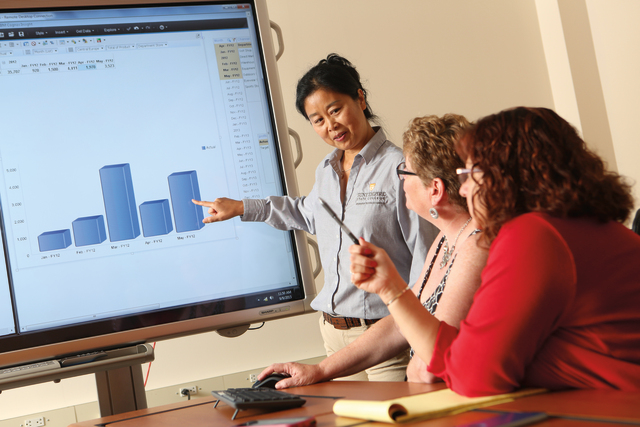 (SARATOGA SPRINGS, N.Y. – Dec. 3, 2018) The Saratoga County Chamber of Commerce, SUNY Empire State College and the Saratoga County Capital Resources Corporation (SCCRC) have partnered to establish the Saratoga County Institute of Management.
SCIM will meet the demands of employers and employees for additional in-depth professional development and training for those moving into operational, personnel management and other leadership positions.
Registration is underway and the first track begins Friday, Jan. 4, 2019, with an orientation session.
"Our employees are – without question – our most valuable asset," said Maggie Fronk, executive director of Wellspring, which provides domestic violence and sexual assault services for Saratoga County residents and sexual assault services for Washington County residents. "Their knowledge and experience are the foundation for the quality services Wellspring provides toward our mission of ending relationship and sexual abuse in our community. The Saratoga County Institute of Management program offers us the opportunity to invest in our employees' professional development for their benefit, for the agency's benefit and, ultimately, for the benefit everyone in our community."
"We realized we were hearing from members that they were promoting their employees internally, but without resources to grow and develop their management and leadership skills," said Todd Shimkus, president of the Chamber of Commerce. "These comments didn't come from one industry, but from many. As a member-based organization that looks to provide the resources our members need in order to succeed in business, we decided we should provide this service. SUNY and SCCRC are the perfect partners to help us achieve this mission and support our communities."
"The Saratoga County Board of Supervisors, through the Saratoga County Capital Resources Corporation, is excited to partner with the Saratoga County Chamber of Commerce and SUNY Empire State College in establishing the Saratoga County Institute of Management," said Anita Daly, chairperson, SCCRC. "We recognize that workforce development is one of the most important ways we can help our business and economic development to grow. Businesses that work to develop their people, their most important resource, will excel in the future."
"SUNY Empire State College exists to educate adult, and other nontraditional students, through innovative programs and modes of delivery that meet their needs," said SUNY Empire State College Executive Vice President for Administration Joseph L. Garcia, a retired lieutenant colonel and 28-year veteran of the U.S. Air Force, who was an early advocate for the program and will serve as an instructor. "We are proud to partner with the Saratoga County Chamber of Commerce, and the county's board of supervisors, because it enables us to have a positive impact on communities we serve, in addition to our undergraduate and graduate degree programs. SCIM responds to specific challenges businesses are experiencing in finding appropriate training and professional development for middle management. As a result, employers will have a stronger, more competitive workforce and employees will have greater opportunities for advancement."
Significant financial support of the institute's programming is being provided by the SCCRC. The Chamber is providing administrative management of the program and SUNY Empire is providing instructors and use of its facilities at 113 West Ave., Saratoga Springs, N.Y.
The institute's program is organized into three, three-month tracks: Operational Management, Self-awareness and Management of Others.
Space is available for up to 24 participants per track, selected by their employers.
Participants will not earn academic credits, however, the courses are designed to offer college-level learning.
Participants can choose to attend one, two or three tracks, which do not run concurrently.
Cost per employee per track is $1,500 for Saratoga County Chamber members and $2,000 for non-members. Base membership for the Saratoga County Chamber of Commerce is $435 per year.
Discounts are available for employers who register more than one employee.
Scholarships are available for impact sector organizations and small businesses. To inquire about financial assistance, contact Program Director Kathleen Fyfe at kfyfe@saratoga.org or 518-584-3255.
More information about SCIM and the program are available online.