April 24, 2023
Empire State University Hosts Vet Net Ally Seminar
University-wide program equips faculty and staff to better support military-aligned student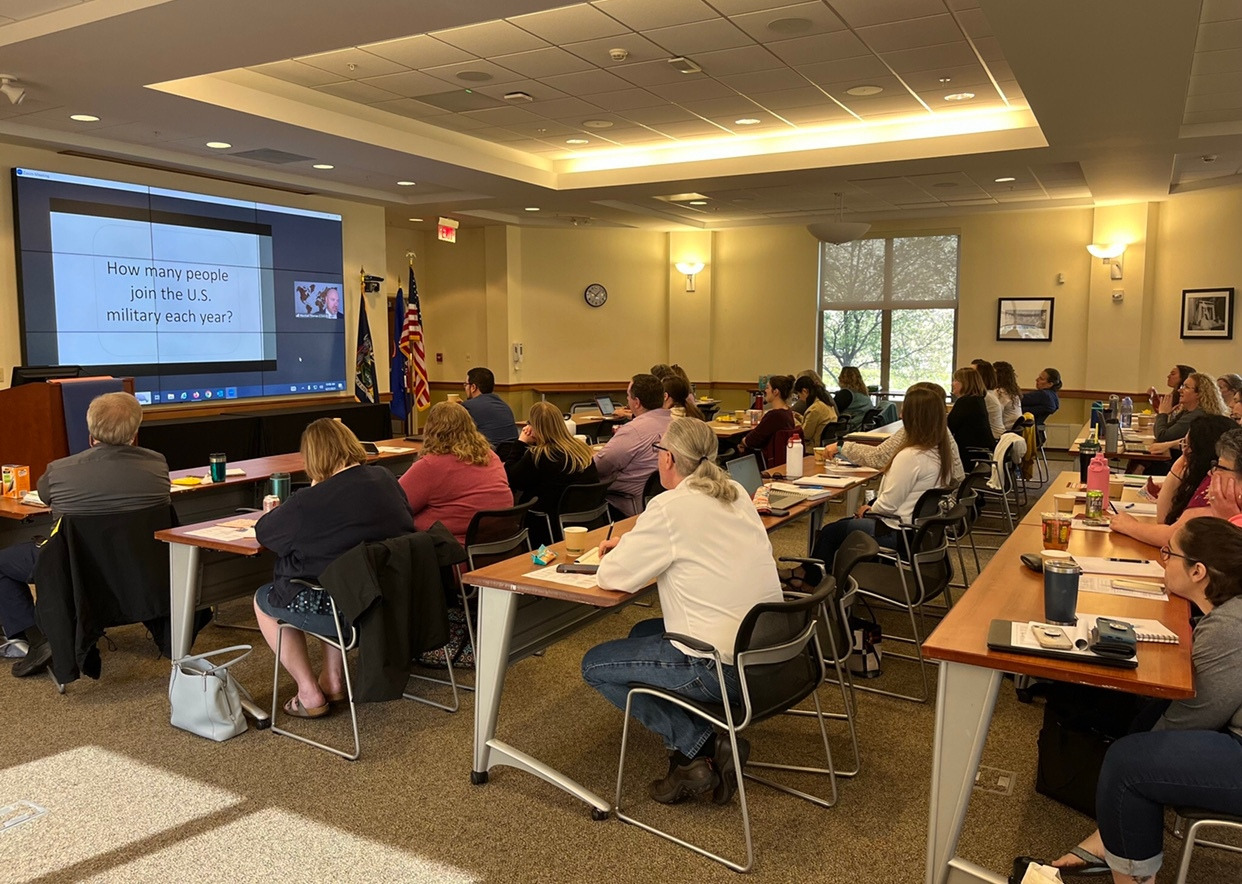 (Saratoga Springs, NY — April 21, 2023) Empire State University recently hosted a university-wide seminar to increase faculty and staff awareness of and sensitivity to the needs of military-aligned students in higher education. The program, Vet Net Ally, was led by California State University's Director of Veteran Affairs Marshall Thomas, Ed.D.
SUNY Empire is the largest-serving military-affiliated institution in the State University of New York, granting 20 percent of all military-affiliated degrees within SUNY.
The Vet Net Ally training designation indicates that program participants are prepared to help military-aligned students make a smooth transition from military culture to university culture. Military-aligned students often face unique challenges that can impact their enrollment, retention, and academic success. Modeled after Safe Zone Ally programs, the Vet Net Ally program focuses on pre- and post-military culture and the specific issues, challenges, and concerns faced by military and veteran students.
In addition to faculty and staff allies, SUNY Empire provides a broad range of programs and services for military-aligned students, including military spouses and child dependents, such as academic and social support programs; free evaluated educational plans for military/veteran students, spouses and child dependents; reduced tuition, with mandatory fees waived for military students; and a dedicated Office of Veteran and Military Education (OVME). In addition, the university has a fully funded DANTES Subject Standardized Tests (DSST) Center, located at its Saratoga Springs location.
SUNY Empire's military-aligned students can also earn credit for demonstrated prior college-level learning, including for standardized exams and military training and careers.
Empire State University President Lisa Vollendorf, Ph.D. said, "Military-affiliated students make significant sacrifices to serve their country, and Empire State University is proud to support them in their educational pursuits. We recognize the unique contributions, valuable skill sets, and diverse perspectives of military-affiliated students, and we are continually learning how to best serve them throughout their academic journey."
Empire State University Director of Veteran and Military Education Desiree Drindak said, "The high turnout from our faculty and staff demonstrates the commitment this institution has for our military community and for providing the best possible service to help these students complete their degree."
U.S. Veteran and Empire State University Military Outreach and Enrollment Supervisor Brian Sherman '17 said, "Empire State University is an academic institution unequivocally 'mission focused' on the academic needs of our military community, its students and family members seeking successful completion of their next level of higher education."