September 9, 2020
Christopher Burke '07
Blind Ambition: Pioneering a new certificate program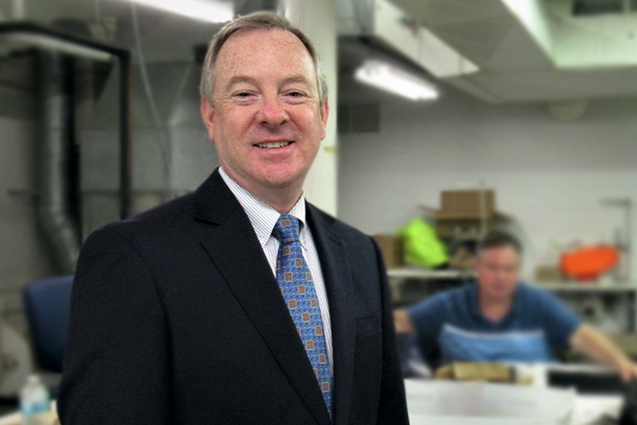 According to statistics from the National Federation for the Blind, New York state ranks fourth in the nation for the number of people reported to have a visual disability. At the same time, the state faces a critical shortage of professionals certified to work with adults who are blind or visually impaired.
Christopher Burke '07 is working to change that.
As executive director of the Northeastern Association of the Blind at Albany (NABA), Burke ensures that the blind and visually impaired – in 22 counties throughout eastern New York – get the services and support they need to live healthy, independent lives.
But the current workforce shortage has the potential to affect NABA's ability to efficiently and effectively serve its clients in the future. So Burke is dipping his toe into higher education, helping to spearhead an innovative new program that will fill the gap in the employment pipeline.
A focus on solutions
Vision rehabilitation therapists work with adults with low or no vision, using assistive technology and teaching problem-based learning and compensatory skills.
Burke says although vision rehabilitation is a highly specialized field that requires years of schooling, hands-on learning, and a master's degree, it simply does not pay as well as many other healthcare professions. Because of this, he says, fewer people are entering the profession, and it's getting more and more difficult to find colleges with vision rehabilitation degree programs.
Which got Burke thinking.
"Do we really need everyone to have a full-blown master's degree to work in our field? Not from my perspective," Burke says. "The quality of our programs is built on the fact that we have fully certified, master's level professionals delivering services to our consumers, but we need more capacity. There has to be a happy medium – a balance between a master's degree and a certified person who can support vision rehabilitation and mobility specialists. If we don't have to send a fully credentialed therapist everywhere, we could serve more people who have less complex needs, like learning how to work a talking watch or delivering and setting up a piece of adaptive equipment."
Burke reached out to SUNY Empire to explore educational opportunities that might turn his idea into a solution. Burke met with Provost Meg Benke and Nathan Gonyea, dean of the School for Graduate Studies, to discuss the possibilities. Now, the college is moving forward with a plan to award credit for training that will prepare students for a new, entry-level position – assistant to professionals who care for the blind and visually impaired.
A clear path forward
SUNY Empire is currently working with the New York State Commission for the Blind (NYSCB) to develop a curriculum for the one-year certificate program. NYSCB will either deliver the courses themselves or certify other organizations to deliver them. SUNY Empire will then evaluate the training for credit, allowing students who complete the program to apply those credits to an undergraduate degree of their choosing at SUNY Empire.
Burke hopes to launch the certificate program, which has not yet been named, this fall or in January of 2021.
He says nearly a dozen agencies have already expressed interest in delivering courses and assigning staff. Burke has secured grant funding to pay for a project director and some faculty.
"The SUNY Empire model is the perfect way to deliver the training and credit people need to care for the blind and visually impaired – while they work or raise a family. This program will benefit the people we serve, students looking for a career change or an additional credential, and the industry as a whole. It's a win for everyone."
For more information about the Northeastern Association of the Blind at Albany, visit www.naba-vision.org.