June 29, 2020
Kenichea Nichols '20
A Master of Nursing Education …and Self Care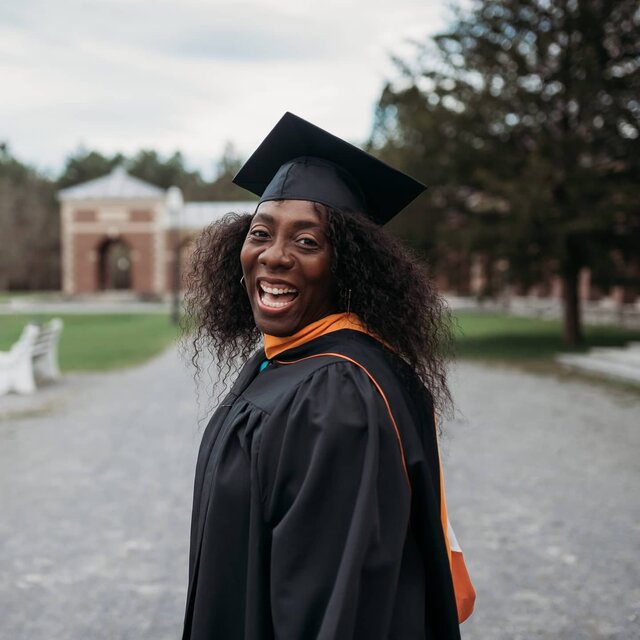 Kenichea Nicols is careful and deliberate, thoughtful and capable. So it's not surprising that she approached her nursing career much the same way she approaches life – through a series of measured, well-thought-out decisions that ultimately lead her down the right path.
Nursing wasn't necessarily Kenichea's calling as a young adult. It's not that she was opposed to it, but she had other career interests, too, from hair styling to travel planning. Her mother, who works in a hospital, recognized Kenichea's positive nature and natural inclination to help others, and she encouraged her daughter to speak with some nurses and learn about their jobs. Kenichea did.
"Everyone said their job was rewarding and they felt they were making a difference in the world," Kenichea says. "Becoming a nurse felt like it would satisfy the desire inside me to help people and to feel like I would make a positive difference."
After earning her LPN through a program at her high-school in Utica, New York, she earned her BSN at SUNY Plattsburgh. Now, a staff nurse in Utica's St. Luke's Hospital's emergency department, Kenichea has worked as an RN for 16 years.
But there was a time when she decided she needed to take some time off from her demanding career.
"Nursing is tough. I came to a point where I really felt like I needed to step away for a bit. I took six months off to build stronger bonds with family and my faith," Kenichea says. "I also took some time to determine whether or not nursing was something I wanted to do.
"My grandfather was not happy with my decision to leave my job. He said, 'You can't quit a job and not have a job,' but I knew there'd be nursing jobs. If we can't take care of ourselves in this profession, we can't take care of other people."
Turns out, nursing was something Kenichea still wanted to do. She also realized she wanted to go back to school to earn her MSN. She applied to . She went back to work in May 2017, and began her courses in nursing education in August of that year.
"If hadn't taken those six months off, I wouldn't have had the courage to apply for school. If you're a good nurse, there's always a place for you," Kenichea says.
She says she credits her SUNY Empire professors with some of her success.
"They were amazing. When my grandfather was dying, I wasn't necessarily on my game, and they were reaching out to me to ask if I was ok, to ask what's going on," Kenichea recalls. "They were very flexible with me. Everyone was invested in our success as students and working nurses."
Kenichea says her ultimate career goal is to work with new graduate nurses in a clinical setting.
"My master's gives me the credentials to do the job I want to do and help the next generation of nurses," Kenichea says. "It's opened up my job prospects and my ability to make a contribution to my profession."