August 24, 2023
Kenya Cagle ´81 ´83: Following His Passion for Film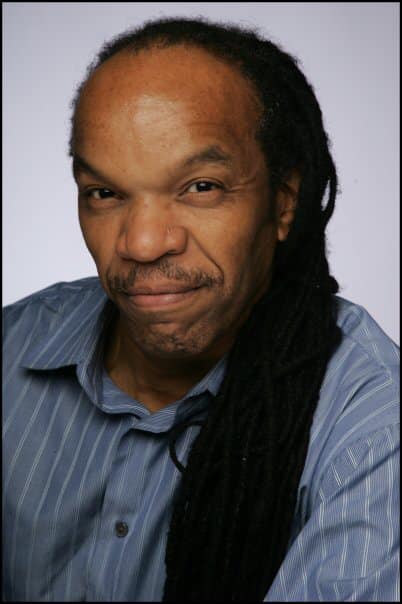 Kenya Cagle ´81 ´83 is excited. Perhaps it's because he's living his dream and making independent movies that are winning accolades. Or maybe it's because he just released his first horror movie — and eighth film — on Tubi, a steaming service. Or it's possible he's looking forward to resuming his film class with elementary school students.
"People always say 'Kenya, you're always so happy,'" he says. "And I am. I'm excited. Each and every morning, I'm excited."
At the heart of that joy is Cagle's filmmaking. The Brooklyn native is the founder and president of Cagle Vision, a film production company he launched in 2004 that shoots videos and produces short and feature films.
Acting Debut
Cagle was only 13 when he got his first role in a junior high production directed by his godfather Bill Duke, an actor and director who appeared in "Car Wash," "Predator," and "Bird on a Wire." Duke also directed "Sister Act II" and "A Rage in Harlem."
For Cagle, the acting put him on a path that landed him at the Performing Arts High School in New York City, made famous by the movie "Fame." He went on to join the Negro Ensemble Company and attend the Frederick Douglass Center for the Creative Arts.
At the same time, Cagle was a student of hakkoryu jiujitsu, a Japanese martial art that required students to have higher education to become a black belt. "We had to prove ourselves in other areas," Cagle recalls.
His sensei, or teacher, told him about SUNY Empire. Without a class to attend or a schedule to follow, Cagle initially faltered. His grades suffered, and he considered dropping out.
But as he began to realize the benefits of independent study, his attitude changed. Once he learned to embrace this less traditional way of learning, Cagle excelled, graduating in 1981 with an associate degree in media arts, followed two years later with a bachelor's in television arts.
The lessons learned at SUNY Empire, he says, were lifechanging. "When I became a filmmaker and started my own business, it was based on the training that I received from Empire State," he says. "Because remember, at Empire State, I had to be independent."
In 2001, he also got a master's degree in media management from the Metropolitan College of New York.
Pursuing His Passion
Cagle began his career as a family preservation worker for the City of New York, where he assisted families in crisis. On the side, he acted and made films. But by 2004, Cagle was burned out from his day job. He left the city and founded Cagle Vision, with the goal of dedicating himself to his true passion: filmmaking.
The company has so far produced 30 feature films, including "Sin Apple," a film that Cagle wrote and directed about a man who wants a woman's love so badly that he puts a curse on her, only to learn she still loves her former boyfriend.
In a few months, he'll release his first TV series, "Dead to Right," a nine-episode drama about a young woman who's tricked into sleeping with her guidance counselor. As an adult, she decides to seek justice, only to learn he's married and a member of the mob — but she doesn't care. Like some of his other films, the story is based on a situation Cagle encountered while working for the city.
Other plans include making a fictionalized movie about the real-life killing of Eric Garner, the New York city man who was killed by a police officer while held in an illegal chokehold. "The story of what happened is not the story of was in the press," he says.
Cagle's most ambitious project is yet to come. He plans to make a film based on a book he wrote in 2013 titled "Prophet — The Story of Nat Turner." The book tells the story of Turner, a slave turned preacher who led a freedom movement in 1831 in Virginia. For the rebellion, he was later captured and hanged.
Passing It On
Even as he juggles his many projects, Cagle has made it a priority to share his passion for filmmaking with younger generations. Last year, he taught a 12-week course on film to 125 students at P.S. 273 in East New York, a school where Cagle says it's easy for students to get lost.
The students, aged 8 to 11, were involved in all aspects of the film, from writing the script to choosing the actors to directing the movie. The result was a film titled "Empowering Students." This year, the students will learn the postproduction aspects of filmmaking such as marketing, which includes getting it on to a streaming service and entering the movie into a film festival.
Cagle says he loves sharing what he knows with the next generation. "We have to pass it on, just as it was passed on to me," he says.