May 23, 2022
Michell Wright Jumpp '06
SUNY Empire Alum Applauded for Work as Librarian, Appears on TODAY Show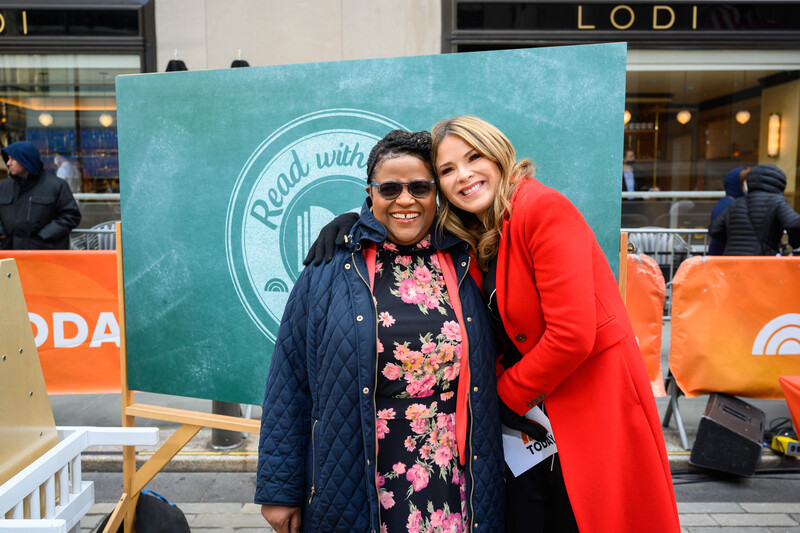 Michell Wright Jumpp '06 grew up in Jamaica, in a community without school libraries at the time. Today, as the school librarian at Horizons-on-the-Hudson in Newburgh, N.Y. — a school where English is the not first language for many kids — she makes it her mission to ensure that all the children have access to books and experiences that enrich their lives.
Michell's passion for her work has led to three recent awards, including the New York Library Association's 2021 School Librarian of the Year, which recognizes a librarian who has demonstrated extraordinary leadership and service within the library community over the past 12 to 18 months. The award landed her on NBC's TODAY Show last March on National Read Across America Day, where she joined the hosts on Rockefeller Plaza.
In April, she was one of 10 librarians to receive the 2022 Outstanding Librarian Award from State Senator Sean Ryan, D-60th Senate District, who chairs the NYS Senate Libraries Committee.
This month, Michell will also receive a Commendation Award from New York State Senator James Skoufi, D-39th Senate District for her work as a school librarian.
From Teacher to Librarian
Before becoming a librarian, Michell was a high school teacher in Jamaica. Later, she taught adults with disabilities in New York City. But she knew she could make a bigger and broader impact by becoming a school librarian. "I recognized that becoming a school librarian would broaden my scope of influence with youth, allowing me to touch every life in my school and work with my school community," she says.
Her decision was influenced by her late sister, Leleith Smith, a school librarian of 29 years, who had worked as a special, public, and academic librarian, as well as Michell's own passion for sharing and listening to stories and encouraging youth to create their own.
Michell's love of reading didn't come naturally. "Thankfully, my family intervened to change the trajectory of my life by modeling good habits," she says. "My parents were always reading newspapers, my sister Leleith became my first librarian on a bookmobile, and my sister Charmaine always had her head buried in a book under a mango tree."
Her love of reading and writing took a giant leap when she and Charmaine began writing down lyrics to songs by performers such as Bob Marley, The Jackson 5, The Carpenters, and Dolly Parton. "I began to notice the skillfulness of the singers/songwriters, and their stylistic manipulation of words," she says.
Michell began asking her parents for a record player, so they could hear the songs over and over. But her parents got the family a set of encyclopedias instead. What was an initial disappointment became a life changing gift, one that her parents called a community investment.
"Our house became the community hub for research, and those books transformed our lives and the lives of many children around us," Michell recalls. "We scoured every page of every volume and had immersive experiences. We dug a hole in our yard to travel to "down under." We learned about South Africa, and the South African singer/songwriter and civil rights activist Mariam Makeba and her 'Click Song'. We learned the capital cities of most countries around the world, and those of the United States. We even sang Molly Malone like kids in Ireland. We became world citizens."
Their parents got them a record player the following year, and Michell and Charmaine began writing the lyrics of even more songs.
A Fierce Devotion
Today, as the school library media specialist at Horizons-on-the-Hudson elementary school in the Newburgh Enlarged City School District in the Hudson Valley, Michell is what Jenna Bush Hager, the Today Show host who visited the school, calls "fiercely devoted to her students".
Michell says she caters to the individual needs of her students by building a "robust, supportive learning community with experiential learning opportunities." She taps into school and community partnerships to create collaborations that support what the students learn, and strives to ensure that people, events and experiences are accurately portrayed. Most of all, she tries to develop creative and critical thinkers.
"I want our kids to know that who they are is important, that their life experience matters, and that they and their community are relevant and valuable," Michell says. "I try to create a fair, safe, non-judgmental, and affirming space where students can become voracious consumers of information and creators of content knowledge so that the cycle of learning continues."
A voracious reader herself, Michell says poetry is her favorite genre. She is especially passionate about works by authors of different ethnicities, and stories about the immigrant experience. She counts Gwendolyn Brooks, Héctor Tobar, and Isabel Wilkerson among her favorite authors of adult books. And she enjoys children's books written and illustrated by Jan Brett, Lesa Cline-Ransome, Minh Le, Douglas Florian, James Ransome and Rafael López.
'This is Not Real'
Michell wasn't sure she wanted to appear on the TODAY Show at first but agreed to think about it. After talking it over with family, friends, and colleagues, Michell agreed but only if the producers could feature the students, the collaborative spirit of the school and the Newburgh community.
The result was a story showcasing Michell's work and its impact on students. Soon after, Michell traveled to the city to appear on Rockefeller Plaza.
"The day of my appearance in the studio in New York City was more like an out-of-body experience," Michell says. "Though I'm not usually the starstruck type, being in the green room with a celebrity immediately thrust me into a 'This is not real' state of mind. It was Jenna to the rescue. Jenna stood with me, apparently longer than usual, hand on my shoulder, talking with me and telling everyone I have not done this before. She got me through it —being on the Plaza surrounded by the anchors and getting the unexpected gift."
That gift was a donation of 1,000 diverse children's books for the Newburgh school library from Harper Collins, 2,000 adult books for the community's public library, and a personal collection of books from the Read With Jenna Book Club. "Now that it's all over, not only is there a positive light on Newburgh, but there's a gift that will keep on giving," Michell says.